Militants "DNR" was not allowed on their territory journalists of Deutsche Welle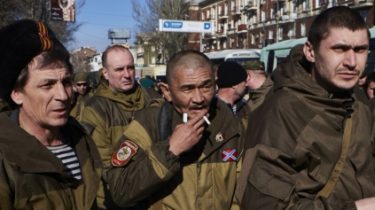 Militants "DNR" was not allowed on their territory journalists of Deutsche Welle
© Getty Images
Reporters wanted to accompany the OSCE mission.
Fighters of terrorist group "DNR" was not allowed on their territory journalists of the German edition of Deutsche Welle.
This was reported by the Kiev correspondent for the Christian Trippe.
According to him, he and his crew had intended to escort the OSCE observers, headed by Swiss diplomat Alexander Hug in Donetsk. While they advance, in writing, requested permission to "press center" of the terrorists and arranged for an interview with their representative.
However, at the checkpoint "Marinka" the militants refused to allow journalists, referring to the statement "intelligence the NPT." Reporters are caught between two fronts and only an hour later was able to return to a safe area controlled by the Ukrainian army.
Comments
comments