The Russians used an unknown silent weapons on the border of Luhansk and Donetsk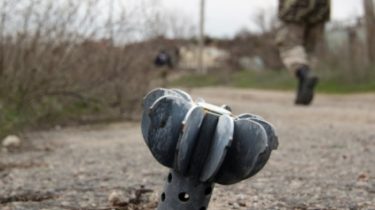 The Russians used an unknown silent weapons on the border of Luhansk and Donetsk
© UNIAN
The military said that for the first time seeing this type of shells.
Towns on the border of Donetsk and Lugansk regions regularly flinch from the heavy artillery of terroristswho do not distinguish the positions of the Ukrainian army and civilian houses. One of 152-millimeter shells exploded in the street in the Trinity, says the story TSN.19:30.
Several houses in the village received a direct hit. In other povyletali glass. "Worked SAU" – says Mat soldier with the call sign "Hunter". Fighters of the Georgian Legion, which protected one flank of the Trinity, there is no doubt – from the other side has well-trained people. "We know now there were a lot of Russian military," – said the fighter with the Callsign "Maestro".
Near Trinity militants are moving forward, hiding behind the mist and snow
TSN. 19:30
Yesterday, 21:29
Add to favourites
Towns on the border of Donetsk and Lugansk regions for a week already shaken by heavy artillery, the Russian terrorists. Neither the rebels nor the Ukrainian army or civilian houses. Besides, they say, the Ukrainian defenders, the terrorists are gradually moving forward, coming closer to Trinity.
The Trinity in this sector almost samama hot spot. The enemy is constantly trying to find a weak spot in the Ukrainian defense. In addition to conventional howitzers, the terrorists are using some kind of unknown weapon, which causes significant damage to the village and to the military. "We don't know what this weapon is. The sound is not audible, there is no flash. Explodes in the air and debris then down down," says "Maestro". Also Russian mercenaries gradually moving forward from their positions, hiding behind the fog and snowfalls.
The main goal of terrorists in the Trinity – to take control of the road which leads directly from the occupied Stakhanov to Popasna, Bakhmut, Severodonetsk, Lisichansk and other Ukrainian cities. "From Avdeevka are not logged in – could not. Now I think that maybe something here will work out," explains the Maestro. However, for the Georgians this is not the first war with Russia, so experienced fighters do not leave to the enemy the chances of success.
The TSN reporter Eugene Nazarenko
Comments
comments