In Kiev, the court extended the house arrest of ex-berkutova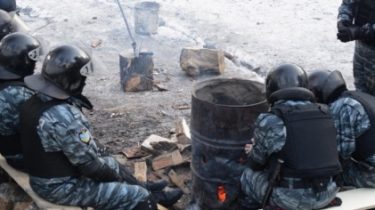 In Kiev, the court extended the house arrest of ex-berkutova
Illustration© UNIAN
The lawyer Rybin, which protects all three ex-Berkut officers, accused prosecutors of selectivity.
The Pechersky district court of Kiev continued a former employee of Kharkov "Berkut" Artem Voylokova a measure of restraint in the form of a night of house arrest for two months.
It is reported by Gromadske.
In particular Voylokova allowed to leave with 22 nights until 7 in the morning. The court waived the requirement to wear an electronic bracelet. Felts said that will not escape even without the measure, as does not consider himself guilty.
Ex-Berkut officer Vladislav Mastei continued night house arrest for two months and has canceled an electronic bracelet.
Defendant Andrew Hendricken considered the renewal of personal commitment. The defence filed a motion for wife Hendricken appointing him a night of house arrest.
During the meeting, the lawyer Rybin, which protects all three ex-Berkut officers, accused prosecutors of selectivity. "Why are they Voylokova and Mates ask for house arrest, and Handico is the personal obligation?", he said.
The court decided to extend the measure Hendricken in the form of personal commitments. It should appear upon request of the court and has no right to leave Kharkov region.
See also: One of the leaders of "Berkut" after the Maidan went on increasing – volunteer
Recall, November 30, the leadership of the national police stated that it was removed from service soldiers of "Berkut", suspected of crimes during the revolution of dignity. The decision applies to those employees of special forces "Berkut", who are defendants in criminal proceedings regarding crimes against protesters on the Maidan in December 2013 – February 2014.
General police officer involved in the dispersal of the Maidan, could be 10 years in jail
TSN. Pdsmi day
8 Dec, 00:35
Add to favourites
This term threatens the former head of the Department of public safety of the Ministry of internal Affairs Vladimir Hrinak. Prosecutors insist that on February 18-19, 2014, on Institutskaya street, he was negotiating about the assault, but also gave Eagle a fee for the beating of protesters. He Hrinak says that three years ago, were suspended by the management for the likes of the Maidan. He now works at the same position, but in the national guard.
Comments
comments