"It would be necessary to meet". Savchenko expressed his desire to meet with Medvedchuk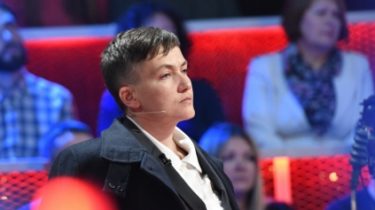 "It would be necessary to meet". Savchenko expressed his desire to meet with Medvedchuk
Nadezhda Savchenko© Right to Vlad
The MP argues that with the godfather, Putin talked her sister.
MP of the faction "Batkivshchyna" Hope Savchenko said that he wants to meet with a representative in the humanitarian sub-group on Donbass and the godfather of the Russian Federation Vladimir Putin Viktor Medvedchuk.
The MP broadcast "Radio Liberty" said that not personally familiar with Medvedchuk.
"When I finally meet that person, I just come out and tell you what I think about the Medvedchuk", – said Savchenko.
She added that her sister Vera Savchenko familiar with the godfather Putin, and with the press Secretary of the Kremlin Dmitry Peskov.
Read also: Ukrainian delegation to PACE want to replace Savchenko
"She knows him long time ago, back when I was in Russian captivity… She is as familiar with all the investigators that I had been interrogated in Russia, familiar with all their commanders, it is familiar, it seems that even with the Sand, or is it just phone conversations they had," – said the Deputy.
To a journalist's question about whether Savchenko to meet Medvedchuk, because it is through him the negotiations with the militants, the politician replied in the affirmative.
"We would have to meet in order to coordinate the representation of the Ukrainian side (at the talks – Ed.) if we will converge views on it," she said.
Recall, 11 December the media reported on the secret talks of the people's Deputy of Ukraine Nadezhda Savchenko with the leaders of terrorist groups "DNR" and "LNR" in the capital of Belarus Minsk.
Home "Lnrovets" Igor Carpenter confirmed that he and the head of the "DNR" Alexander Zakharchenko met with people's Deputy Hope Savchenko, during which discussed the exchange of prisoners by the formula "all for all".
"It should be seen correctly, it is necessary to understand that this whole process takes place within the framework of the Minsk talks", — he said.
In the "Fatherland" , the negotiations of his Deputy with the militants called unacceptable.

Savchenko acknowledged that he had met with the leaders of the so-called "DNR" and "LNR"
TSN. 19:30
12 Dec, 21:54
Add to favourites
The result of the meeting was positive, although what was the deal with the terrorists, and not reported. On this visit knew neither the Security Service of the country nor the party "Batkivshchyna". There has already managed to declare that she is involved in a new political project with the party does not coordinate his actions.
Comments
comments