Not more than $ 440 in one hand. NBU "frozen" foreign currency restrictions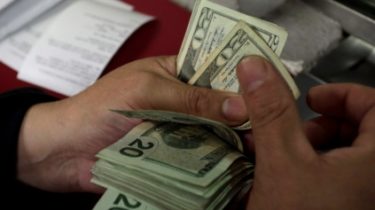 Not more than $ 440 in one hand. NBU "frozen" foreign currency restrictions
© Reuters
The extension of the restrictions the regulator explained the risks to price and financial stability.
The national Bank did not see improvement in the financial market, says risks to price and financial stability, and therefore extended the temporary restrictions previously imposed on monetary and foreign exchange markets.
Continue to operate the following limitations:
– purchase of foreign currency in cash by physical persons in the amount of 12 thousand UAH per day (at the exchange rate now is about $ 440);
– limit on cash withdrawals from foreign currency accounts in the amount of 250 thousand UAH per day;
– compulsory sale proceeds in foreign currency in favor of legal entities at the level of 65%;
– 120-day period from the settlement of transactions on export and import of goods;
– one-day period of reservation of the hryvnia to buy foreign currency on the interbank currency market;
– a ban on early repayment of loans from non-residents.
See also: the Economy is growing, but there are a lot of risks. A full report of the NBU for the year 2016
One of the main risks, the regulator calls the issue regarding the achievement of the inflation target in 2017. First, there is increased uncertainty due to increased political tension. Second, increased probability of delayed receipts of official financing due to slow implementation of measures and reforms provided for a joint programme with the IMF. About this said the Deputy Chairman of the national Bank Oleg Churiy.
There are also short-term systemic risks to financial stability associated with the possible failure of individual banks, programs of capitalization of the results of diagnostic tests.
"In the case of reducing these risks and in the presence of favorable conditions in the monetary and currency markets and the Ukrainian economy as a whole, the national Bank plans to continue gradually to soften the time constraints," he assured the NBU.
Restrictions will apply indefinitely. But it is possible and if situation permits they will be phased out.
"Not to create to market participants about the calendar of benchmarks regarding the process of liberalization, the national Bank decided to make the indefinite NBU Board resolution "On settlement of the situation in the monetary and currency markets of Ukraine". That is, the decree will be effective until the abolition of the last anti-crisis restrictions. The validity period will not be set for all constraints, except two, the maximum validity of which is limited by the laws of Ukraine "On the National Bank of Ukraine" and "On procedure of settlements in foreign currency". We are talking about mandatory sale of proceeds in foreign currency and time limit for settlement of transactions of exports and imports of goods. Accordingly, these two requirements are set for a period of six months, until 15 June 2017 and may be changed prematurely or extended as necessary", – said the NBU.
Earlier the national Bank has named the main risks for Ukrainian economy, if the IMF ceases giving loans.
Comments
comments