Putin in conversation with Merkel accused Kiev of threatening gas transit to Europe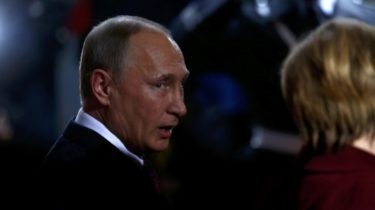 Putin in conversation with Merkel accused Kiev of threatening gas transit to Europe
© Reuters
Also the Russian leader said the Ukrainian authorities guilty of violating the Minsk agreements.
Russian President Vladimir Putin accused Kiev of threatening gas transit to Europe. According to him, the transit can break due to the fact that the Ukrainian side refuses negotiation of agreements on gas purchases from Russia in the current winter season.
About Putin said in a telephone conversation with German Chancellor Angela Merkel, which took place at the initiative of the German side, the press service of the Kremlin.
In addition, the Russian President has accused the Ukrainian military of "provocative shelling" of settlements of Donbass. He also called for the withdrawal of Kiev "socio-economic blockade of the region and the establishment of a direct dialogue with Donetsk and Lugansk". According to Putin, all of which help to intensify efforts to implement the Minsk agreements.
At the same time in which the Russian leader called the conflict in the Donbas "domestic".
Read also: Russia frightens the EU the disruption of gas supplies due to the antitrust fine "Gazprom"
We will remind, on 9 December in Brussels , Ukraine and Russia have not agreed on the terms of Russian gas supplies to Ukraine and transit to EU countries during the winter period. Condition of the Ukrainian side, which may be used for the purchase of Russian gas, is the signing of the additional agreement to the existing contract between "Naftogaz of Ukraine" and "Gazprom".
In Brussels the Ukrainian delegation is trying to negotiate a winter gas package with Russia
TSN. Wounds
9 Dec, 12:52
Add to favourites
Will talk about price and terms of transit of Russian gas to Europe. The initiator was the European Commission, which says that Moscow is ready to sign the agreement. In Naftogaz say that counting on a package that would be similar with what was concluded in previous years. However, what numbers can you expect in the deal, Kiev has not yet spoken.
Comments
comments