At night in Kiev unknown in balaclavas smashed tractors Mafy Obolon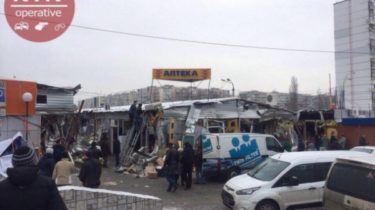 At night in Kiev unknown in balaclavas smashed tractors Mafy Obolon
Kiev
Today, 10:37
1 of 10

© Facebook/Kiev Operational

1 of 10

© facebook.com/dtp.kiev.ua

1 of 10

© facebook.com/dtp.kiev.ua

1 of 10

© facebook.com/dtp.kiev.ua

1 of 10

© facebook.com/dtp.kiev.ua

1 of 10

© facebook.com/dtp.kiev.ua

1 of 10

© facebook.com/dtp.kiev.ua

1 of 10

© facebook.com/dtp.kiev.ua

1 of 10

© facebook.com/dtp.kiev.ua

1 of 10

© Facebook/Vnebo.com.ua
© Facebook/Kiev Operational

© facebook.com/dtp.kiev.ua

© facebook.com/dtp.kiev.ua

© facebook.com/dtp.kiev.ua

© facebook.com/dtp.kiev.ua

© facebook.com/dtp.kiev.ua

© facebook.com/dtp.kiev.ua

© facebook.com/dtp.kiev.ua

© facebook.com/dtp.kiev.ua

© Facebook/Vnebo.com.ua
The raiders asked the dealers to leave the premises and then walked through the booths with special equipment.
In Kiev in the night of Thursday, December 15, unknown persons destroyed the Kiosks near the metro station "Obolon".
This is with reference to eyewitnesses of the incident dtp.kiev.ua reports on his page in Facebook.
As told by the merchants who worked in the night, around 4 in the morning to a small market came from a group of people in balaclavas. Strangers asked to leave the premises of all who worked, and after that, destroyed the stalls of two tractors with buckets.
See photo: In Kiev unknown in balaclavas with a bulldozer smashed the market "Youth"
As a result, was destroyed a number of buildings, in particular, the store "Cosmo", home life, fishing store, pawn shop, pharmacy, shop of mobile communication.
Mafov owners convinced that they had the documents.
We will remind, earlier in Kiev the first four dismantled Mafy, which, despite the ban, continued to sell alcohol.
Note that the Kyiv city Council has limited the sale of alcoholic and low alcohol beverages in the capital at night. For a decision voted 86 out of 100 deputies of the city Council. Was limited sale of alcoholic, low alcohol beverages and beer in stationary objects of trade of the capital at night, and that is from 22.00 PM to 10.00 am.
Comments
comments