Ukraine wrote to the main threats to Russia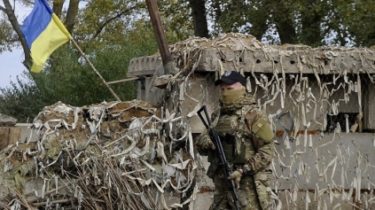 Ukraine wrote to the main threats to Russia
© UNIAN
The General staff announced the main threats to Russia.
The Russian General staff, called Ukraine a threat to Russia.
This was stated by the chief of the Russian General staff Valery Gerasimov, Interfax reported.
According to Gerasimov, the concern is "an armed confrontation in the South-East of Ukraine."
Also in Russia, the fear of a significant growth in terrorist activity in Afghanistan, the extent of instability in the middle East and North Africa because of the war in Syria, the prolonged armed conflict in Libya, Iraq and Yemen, the terrorist organization ID to create a worldwide Caliphate.
In addition, the Russian General staff is concerned about the strengthening of NATO near the Russian border and development of the DPRK's nuclear programme.
"As the challenges to the security of the Russian Federation, we are considering increasing the forward presence of the United armed forces of NATO near the Russian border. A serious concern is the development of the nuclear program of the DPRK," said the chief of staff.
See also: the Confrontation between Russia and NATO called one of the biggest threats to 2017
Recall, the FSB said about the terrorist threat from the Ukraine in the occupied Crimea. According to the Director of the FSB, Ukraine undertook active actions for the organization of terrorist attacks in the Crimea. According to the head of the FSB, this year has been "neutralized two Ukrainian subversive groups that were planning an attack on vital points of the Peninsula."
Comments
comments