The insanity of tyranny. Turchynov sharply commented the Moscow court of "coup" in Ukraine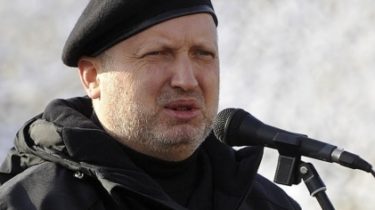 The insanity of tyranny. Turchynov sharply commented the Moscow court of "coup" in Ukraine
© Information-analytical center of the NSDC
According to him, the claim in this case should be considered in a psychiatric hospital.
Secretary of the National security Council and defence of Ukraine (NSDC) Oleksandr Turchynov called the consideration in the Russian court on the issue of recognition of the revolution of Dignity in Ukraine coup "the next insanity of tyranny."
He stated this in his Facebook.
"The beginning of consideration in the Moscow court the question of the recognition of events in Ukraine 2014 coup is another insanity of tyranny, which is experiencing socio-economic and intellectual crisis," Turchynov wrote.
"The lawsuit with that statement more professional may be considered in the Moscow psychiatric hospital, where there are more professional with this, so important to the Kremlin psychopaths of the problem," he added.
In turn, head of the Department of special investigations of the Prosecutor General Sergei Gorbatyuk called reports about the participation of ex-President of Ukraine Viktor Yanukovych in court on the so-called "coup" in Ukraine, PR-fun ex-officials.
"It seems to me that this court, any difference may not have, because he can not consider questions regarding any of the Ukrainian events on the territory of another state. It looks certain, for example, the PR fun of former senior officials to meet their own ambitions, and not some legal process that will have legal consequences for Ukraine," – said Gorbatyuk UNIAN.
We will remind, deprived of the title of President of Ukraine Viktor Yanukovych called the events of 2014 coup, supporting the claim of his former colleague Vladimir Oleynik. According to him, as a result of illegal actions of the Council have passed laws that do not meet the Constitution of Ukraine, in particular, on his dismissal from duties.
December 15, in Dorogomilovsky district court of Moscow continues the process regarding the recognition of events in Ukraine 2014 coup. A lawsuit was filed by a former Deputy of the Verkhovna Rada from Party of regions Vladimir Oliynyk. The decision of the Prosecutor General of Ukraine on refusal to initiate the corresponding criminal case he called "evidence of the usurpation of power."
Comments
comments