The defenders of the Town began firing explosive bullets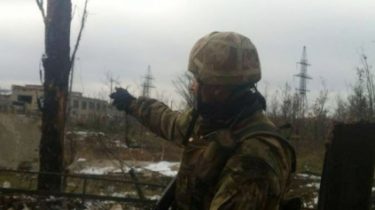 The defenders of the Town began firing explosive bullets
© Facebook/Andriy Tsaplienko
The enemy is especially active in the last days.
Ukrainian military continues under constant fire to defend industrial area near Avdeevka. In the afternoon the enemy shelled positions of the APU from heavy machine guns and grenade launchers, and night begins to work prohibited a large caliber, according to a story TSN.19:30.
"The work of the AGS, is that of a "Rock". This is what most often. Because of the large size – they cover a large area. Plus shooting with explosive bullets," – said the fighter with a will pozvonim "Bear". Military add that dark at times recently they have covered 120 caliber. And in recent days, frequent attacks, most likely against militants received new ammunition from Russia. However, all the efforts of the terrorists useless: defenders of the Town remain intact. Not least because it is very well-built structures, bunkers and shelters. Even a direct hit mines one of the fortifications did not cause any harm.
In the Donbass once again the enemy is actively shelling of Avdiivka industrial Park
TSN. 19:30
Yesterday, 20:50
Add to favourites
Silence there is no day or night. In the attacking positions of the local defenders, the terrorists do not spare no mines, no grenades or bullets. However, the soldiers are saying that not only adequately answered, but ready to drive out the enemy from occupied now Yasinovataya.
Among the soldiers at the forefront stands a young Vladimir. He is the youngest in the military. Explains that he wanted to go for military service, but in our country there is a paradox: it is only 20 years, then as a war take and 18. Therefore, signed the contract. The soldier admits that he had no regrets, and with the older brothers he has a good relationship. "Sometimes, joke with me that I'm small, skinny, as they say," – said Volodya. Meanwhile, his followers claim that different generations United by a common goal – to expel the dark force from the Ukrainian land. Say, would it have been to do if I had permission from the top. "Yasinovatskiy ending, of course, you would. They have fortifications, in fact, no. They click once and they will run" – say soldiers.
Yesterday it was reported that the defenders of the Experienced, which is nearby, no doubt that the militants will not forget their "congratulations", but they are ready to meet the enemy with weapons in their hands, to the whole country for the holidays can raise a glass of champagne.
The TSN reporter Eugene Nazarenko
Comments
comments