Turchinov told how to restore air defense system has caused hysteria in Moscow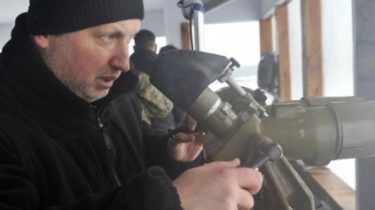 Turchinov told how to restore air defense system has caused hysteria in Moscow
Oleksandr Turchynov© UNIAN
An important step in the resuscitation systems were made during a training exercise in the South.
NSDC Secretary Oleksandr Turchynov declared that the restoration of the air defense system is a strategic task for Ukraine.
He said this in an interview to the information Agency "LigaBusinessInform".
See also: Missile exercises in the Kherson region: the hysteria of Moscow and the secrets of military products of Ukraine
According to him, an important step in her resuscitation was made during exercises in the South.
"These exercises has caused hysteria in Moscow. They began to threaten that if we make at least one start, they will start to strike at the launchers and will shoot down our missiles. For us it was fundamentally not only conduct training but also to demonstrate that we are not going to retreat because deprived of any reason to the Russian ultimatums," – said Turchinov.
He also announced the continuation of the exercise.
Answering the question about what Ukraine has done in the case of direct Russian aggression due to the rocket training, the NSDC Secretary said, "would have Acted appropriately in the situation." According to him, was worked out several scenarios, and Ukraine were ready for any provocation.
As you know, the Ukrainian military December 1 began a planned missile exercises in the South of Ukraine. So, was accomplished 16 launches of anti-aircraft guided missiles. None of the triggers were not disrupted. In response , Russia officially announced that it will strike near the Crimea.
Comments
comments