On the arc Svetlodarsk 26 wounded Ukrainian soldiers, five died – TSN.Week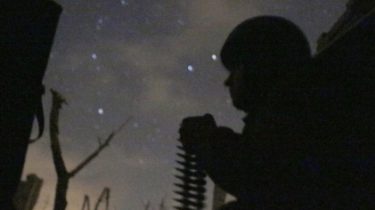 On the arc Svetlodarsk 26 wounded Ukrainian soldiers, five died – TSN.Week
© UNIAN
The powerful battle lasted from early morning.
Powerful battle, which began about six o'clock in the morning of 18 December on the arc Svetlodarsk occupied near debaltseve in the ATO area in Donbas is still going on. In the evening the fire fighters intensified. Doctors at the military hospital warned to be ready to help the wounded.
Journalist of TSN Eugene Zvecanska, which is located near the military hospital, reports that at least 26 wounded Ukrainian military. Four can't take from the battlefield – because of busy fire fighters. Another five soldiers were killed.
Detailed information to know not yet possible because there is poor telephone connection, and the villages around de-energized due to damage to the mains.
In the press center of the ATO headquarters confirmed the death of five Ukrainian military reported six injured.
"According to confirmed intelligence, enemy losses were about 20 people killed and 30 wounded," – officially commented on the Ukrainian military.
Powerful battle is on the arc Svetlodarsk.
TSN. Week
Today, 21:31
Add to favourites
According to our sources, on the front 5 Ukrainian soldiers killed, 26 wounded. They are delivered in military hospital. Of the city close to the battlefield is de-energized.
Comments
comments