Savchenko said SBU details of the meeting with the leaders of the terrorists – Tandt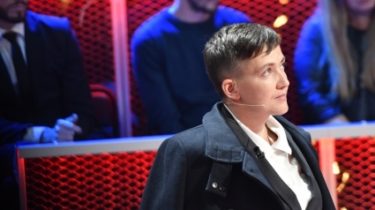 Savchenko said SBU details of the meeting with the leaders of the terrorists – Tandt
© The right to Vlad
It turns out that the MP is not obliged to report on their actions of the SBU.
The people's Deputy Hope Savchenko, which is in Minsk met with the leaders of terrorist groups "L/DNR", answered all the questions of the SBU about the meeting.
This broadcast channel "112 Ukraine" said Advisor to the head of the SBU Yuriy Tandit.
"We interviewed her in detail, she answered the questions she was asked and was interested in SBU. We know from her words in detail about the meeting, which was held in Minsk, we know who took part in this meeting as she passed," – said of the Tandem.
See also: Former lawyer Savchenko believes that she recruited
According to him, Savchenko answered all the questions that interested the security Service of Ukraine, however, noted that the MP is not accountable before law enforcement authorities. That is why, said Tandem, the SBU may require that the policy provide for the future assurance that she will inform the secret service about the plans of such visits and meetings.
"Guarantees no one else can give. There is a certain procedure. Savchenko is still the MP. MPs, unfortunately, does not report of the SBU," – said of the Tandem.
Recall that after the news about the negotiations Savchenko Zakharchenko and Plotnitskiy, IN "Batkivshchyna" excluded deputies of his parliamentary group in the Verkhovna Rada. "Experience has shown that the principles and political beliefs of Nadiya Savchenko and "Fatherland" are not the same. In particular, the "Batkivshchyna" stands strongly against any negotiations with terrorists, against Amnesty for murderers of Ukrainians, against the legalization of armed groups in the Donbass", – reads the statement of the faction.
Comments
comments