The U.S. justice Department will meet with the Deputy-runaway Onishchenko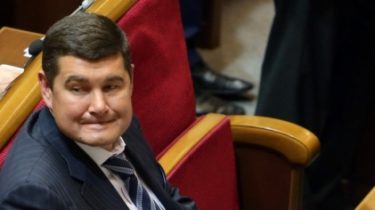 The U.S. justice Department will meet with the Deputy-runaway Onishchenko
© UNIAN
Usually the justice of the country such meetings are not commented.
The U.S. Department of justice reported that it does not intend to hold meetings with the people's Deputy Alexander Onishchenko, who is hiding abroad.
It is reported by Interfax-Ukraine.
See also: Scandalous Onishchenko said that stations and Zhvania helped him to get into Parliament
"Under normal circumstances, the US justice Department and US law enforcement agencies are ready to meet with people who claim to have evidence concerning violations of laws of the United States. But the fact of such meetings is not an indication that such violations took place, or what information the person is believed to be accurate," — said in the U.S. office.
In the U.S. justice Department said there are no plans to meet with the scandalous Onishchenko.
"Although the justice Department typically does not comment on such meetings, in light of the decision of Onishchenko to speak publicly on this topic, we can say that the US justice Department has no plans to conduct further meetings with Mr. Onishchenko," — said in the Department.
See also: the Head of the NAB told about "one chance" Onishchenko
Recall that Onishchenko is suspected of organizing schemes to embezzlement of funds during the extraction and sale of natural gas in the framework of agreements on joint activities with JSC "Ukrgasdobycha", which was caused to the state damage for the sum about 3 billion UAH.
6 Dec nArda-the escapist published the first audio recording of "compromising". Namely, the conversation with the Deputy Oles Dovgy, who was allegedly an intermediary in negotiations between him and Poroshenko after the departure of the people's Deputy of Ukraine.
Onishchenko also said that passed so-called dirt on Poroshenko the US intelligence.
The administration of the President statements by the MP about the alleged existence of dirt on the head of the Ukrainian state do not think so that true.
Currently no record with "dirt" on President Poroshenko and Onishchenko has not released. The head of the NABOO Sytnyk called the statement of Onishchenko about the existence of compromising attempt to politicize the matter.
Comments
comments