The man who became a legend. Poroshenko met with freed from the captivity of "cyborg" Caladium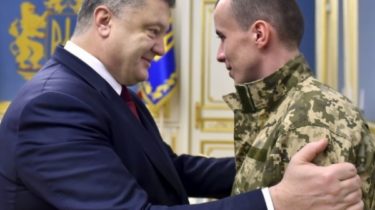 The man who became a legend. Poroshenko met with freed from the captivity of "cyborg" Caladium
ATO
Today, 15:07
1 of 2

© The website of the President of Ukraine

1 of 2

© The website of the President of Ukraine
© The website of the President of Ukraine

© The website of the President of Ukraine
He was the last "cyborg", who was held hostage by the militants.
President Petro Poroshenko met with released from captivity of militants of "cyborg", a paratrooper 80 airmobile brigade Taras Collodium and his mother Galina Myroslavivna.
About it reports a press-service of the head of state.
See also: Managed to install, where militants hold 58 prisoners of Ukrainians – Gerashchenko
"Today is a festive day. Saint Nicholas is doing all sorts of miracles. I want to thank you for these long almost two years you've shown what a real Ukrainian soldier. We thank you for your courage, firmness, patriotism and Ukrainian spirit. Taras, welcome home," – said Poroshenko and said that a lot of people waited and worked to release Kolodiy.
The fighter, in turn, thanked everyone who helped free him from captivity.
The President also announced that he had instructed to provide the necessary medical examination freed cyborg in the hospital of the State administration. "Interested in your opinion, what are you going to do in the future. Spoke with the defense Minister and Chief of the General staff are waiting for you, you are really a man who became a legend", – said Poroshenko.
After two years of Russian captivity in Ukraine returns one of "cyborgs"
TSN. Wounds
Today, 12:57
Irina Gerashchenko on his page in Facebook said that this is not an exchange, and release. Negotiations for the release of Taras Kolodiy started a year ago, but the release of the captured militants agreed after the intervention of the priests. According to official information, trooper 80th airmobile brigade was mobilized in August 2014, defending Donetsk airport, was captured in early 2015.
Add to favourites
Recall, Taras Kolodiy mobilized in August 2014. He joined the 80th brigade served in the Russian military, and then defended the Donetsk airport, where he was captured. 18 December 2016, he was released from captivity. Kolody was the last "cyborg", who was held hostage by the militants.
Comments
comments