Militants in Sahanz used for tank firing positions APU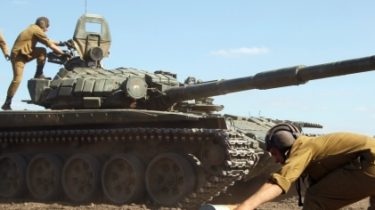 Militants in Sahanz used for tank firing positions APU
© Reuters
On the southern front the situation is far from calm.
Near Shirokino daily skirmishes take place. No exception and the weekend, according to a story TSN.19:30.
Military fire forbidden mines, and by dawn occupied Sahanki in the direction of Ukrainian positions, the enemy tank shot. Eve also shot from the tank, and artillery. In addition, always use small arms and snipers.
A temporary silence comes day on the position, the military are not trusted. The Marines say that the enemy can launch an attack at any time, even in light, even in the dark of the day. So the soldiers constantly on the alert. They say that on the opposite side again war is not "miners and combiners", but professional soldiers, because to work with artillery Amateurs just can't. However, the defenders of Ukraine keep its borders and hope to be able to return the state flag at the official border after drive out the invaders from the Ukrainian land.
As previously reported, due to exacerbation of at the front today the state 's largest losses over the last 5 months. At the headquarters of ATO confirmed the death of five military, 6 wounded and 10 injured and shell-shocked. According to TSN suffered more: 21 soldier, when journalists brought 3 more people, according to unofficial information, 8 wounded. All through the heavy fighting in the arc Svetlodarsk, which is still going on. There fighters are used primarily heavy artillery.
The correspondent TSN Alexander Motor
Comments
comments