In Kiev, the foreign car was hit by the police and during the chase, a shootout occurred and the accident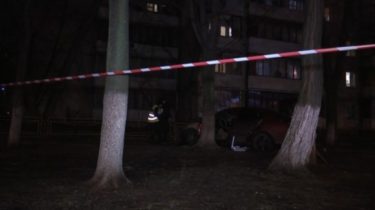 In Kiev, the foreign car was hit by the police and during the chase, a shootout occurred and the accident
Kiev
Yesterday, 22:32
1 of 7

© Photo by Anton Strashko/TSN

1 of 7

© Photo by Anton Strashko/TSN

1 of 7

© Photo by Anton Strashko/TSN

1 of 7

© Photo by Anton Strashko/TSN

1 of 7

© Photo by Anton Strashko/TSN

1 of 7

© Photo by Anton Strashko/TSN

1 of 7

© Photo by Anton Strashko/TSN
© Photo by Anton Strashko/TSN

© Photo by Anton Strashko/TSN

© Photo by Anton Strashko/TSN

© Photo by Anton Strashko/TSN

© Photo by Anton Strashko/TSN

© Photo by Anton Strashko/TSN

© Photo by Anton Strashko/TSN
The police are looking for four people who were in the Honda.
Around 17:00 in the Podolsk district of the capital, police noticed a suspicious car in a foreign room. When I asked the driver to produce documents, he started to run, the correspondent of TSN.
The driver made arrival on patrol. In salon, except the driver there were three passengers, who began to shoot at the police car. When a patrol caught in the wheel of the Honda, a car flew off the road and crashed into a fence. The driver and passengers fled the scene.
Arrived on the scene a few investigative team and dog handlers. Nearby was the clothing was found several shell casings and firearms. Themselves intruders are still looking for.
The TSN reporter Anton Strashko
Comments
comments