In Parliament talking about the "new budget", passed first reading in the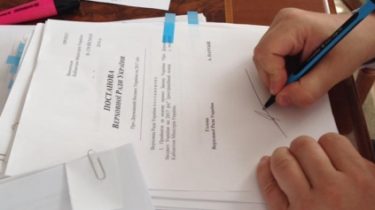 In Parliament talking about the "new budget", passed first reading in the
The indicators of the document was changed by the initiative of raising the minimum wage.
To discuss the key income and expenditure of the state for the next year, the deputies have extended their working day and are willing to work even till the morning. Earlier, Prime Minister Vladimir Groisman promised that the budget for 2017 will be the first in many years that will take is not "under the tree", says the story TSN.19:30.
An additional opportunity to vote, the deputies will be on Thursday, but they are determined to complete budget epic tonight. To the consideration of the estimates for next year has not yet passed, because before to take more revenue generating laws that busy and Happy. In case of successful adoption, the budget Committee will meet again at the meeting, will make the last amendments to the draft and, obviously, already deep in the night the case finally comes to a vote. "Until January 1, we need to adopt the state budget", – said the Chairman of profile Committee of the Verkhovna Rada Andriy Pavelko.
Long night for MPs: policies are set to adopt the budget for 2017
TSN. 19:30
Yesterday, 21:30
Add to favourites
To discuss the key income and expenditure of the state for the next year, the deputies continued their working day. Say they are ready to work until the morning. Minimum wage the government has announced the Prime Minister Groysman, proposes to increase to 3 thousand 200 hryvnias.
One of the most experienced MPs and ex-Finance Minister Viktor Pynzenyk explained that on the second reading made actually a different document than was accepted by the Parliament in the first reading. Since that time, it was decided to significantly raise the minimum wage, which has changed all other parameters in the estimate. "He came in a brand new edition. This new budget," – says MP from the bloc of Petro Poroshenko. However, most of his colleagues are ready to support this document. Also, "for" intend to vote and the representatives of the faction "popular front". Deputies also hope the voices of colleagues from the Radical party and groups "Revival" and "will of the people". But "Fatherland" and "Self" are not to vote for the budget.
As reported by TSN.ia conducts online broadcast of the meeting of the Parliament on the budget.
The TSN correspondent Olga Koshelenko
Comments
comments