The Verkhovna Rada adopted the state Budget for 2017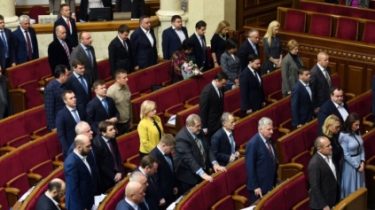 The Verkhovna Rada adopted the state Budget for 2017
© UNIAN
For the main financial document voted by 274 MPs.
Deputies of the Verkhovna Rada almost 5 am Wednesday, December 21, adopted the State budget for 2017.
For the corresponding bill No. 5000 voted by 274 deputies, against 37, abstentions 35.
The budget was supported by the faction "Block of Petro Poroshenko", "popular front", the Radical party of Oleh Liashko, "Renaissance" and "the will of the people". Against the budget made by the faction "Batkivshchyna", "Opposition bloc" and "Samopomich".
So fracc golosuvali for budget 2017. pic.twitter.com/VMvF3Xatqf
— The Verkhovna Rada (@verkhovna_rada) 21 December 2016
It should be noted that the budget Committee of Parliament worked on a final version of the main financial document of the country almost until 4 am. Only after that deputies handed out a draft budget for review, but some of them said that the document was not distributed in full and they had no way of knowing what they are voting for.
The speaker of Parliament Andriy Parubiy stressed that the draft budget was adopted in the first reading, and all suggestions from the deputies of the document was considered at a meeting of the budget Committee.
In whole session of the Parliament lasted for almost 19 hours. During this time, the deputies adopted three budget law, and also supported the establishment of the Supreme justice Council, a key decision for judicial reform.
A long night in the Verkhovna Rada: deputies willing to work until morning to accept the new budget
TSN. Pdsmi day
Today, 00:09
Add to favourites
To discuss the key income and expenditure of the state for the next year, the deputies continued their working day. Say they are ready to work until the morning. Minimum wage the government has announced the Prime Minister Groysman, proposes to increase to 3 thousand 200 hryvnias.
Comments
comments