800 shells per day. Turchynov held a meeting with the military on the arc Svetlodarsk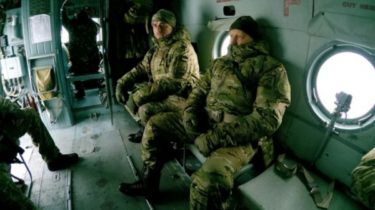 800 shells per day. Turchynov held a meeting with the military on the arc Svetlodarsk
ATO
Today, 15:39
1 of 4

Oleksandr Turchynov
© The Website Of Oleksandr Turchynov

1 of 4

Oleksandr Turchynov
© The Website Of Oleksandr Turchynov

1 of 4

Oleksandr Turchynov
© The Website Of Oleksandr Turchynov

1 of 4

Oleksandr Turchynov
© The Website Of Oleksandr Turchynov
Oleksandr Turchynov
© The Website Of Oleksandr Turchynov

Oleksandr Turchynov
© The Website Of Oleksandr Turchynov

Oleksandr Turchynov
© The Website Of Oleksandr Turchynov

Oleksandr Turchynov
© The Website Of Oleksandr Turchynov
He inspected the defensive positions of the APU.
NSDC Secretary Oleksandr Turchynov visited the hot spot zone of the ATO – Svetlodarsk arc, where the fourth day continued shelling.
About it reports a press-Department service.
Turchinov went to the forefront of the 54th brigade, which withstood the attacks of the enemy, and inspected the defensive positions of the Ukrainian security forces. He discussed with security officials the situation in recent days on this front, and held a military conference.
See also: Wounded on the arc Svetlodarsk: we completed the task with minimal losses
The NSDC Secretary added that the fighters for the fourth day in a row and served the Ukrainian positions using artillery and mortars of large caliber.
"A number of shells and mines on our positions in the area of Svetlodarsk arc installed a kind of "record" – more than 800 per day," he said.
Turchynov added that the armed forces has caused the enemy significant losses.
"Despite the constant attacks and attempts to break through our defenses, the Ukrainian military bravely and professionally carried out its duty by stopping the enemy and inflicting considerable losses", – he said.
The NSDC Secretary added that our military counter-attacked, moved forward and occupied new positions, "which gave them an additional advantage over the enemy in this sector of the defense."
"The armed forces of Ukraine will continue to respond adequately to any provocation of the Russian troops on all fronts" – summed Turchinov.
We will remind, on December 18, militants have waged a fierce battle with the military forces of the antiterrorist operation in the area of Svetlodarsk arc, in the Donetsk region. The shelling is still going on. Ukrainian military took the fight, threw the enemy forces and carried out a counterattack into the flank of the enemy.
According to official figures, killed at least five Ukrainian military, another six were wounded, ten were wounded or injured, one was taken prisoner. The journalist Yury Butusov reported seven dead.
According to intelligence reports, the enemy's losses amounted to at least 25 people were killed and 30 wounded.
More about the situation near Svetlodarsk see the link →
Comments
comments