In Kiev was the first year the triplets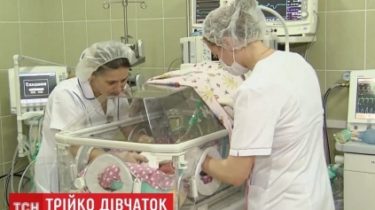 In Kiev was the first year the triplets
Mom hopes this is a good sign for the whole country.
Incredible premature triplet girls born in the capital. Each child weighs one kilogram, according to a story TSN.19:30.
They were born in the 29th week of pregnancy, but breathe on their own. Triplets is unique for several reasons: first, it is the first in Kiev for the whole year, and secondly, most often three children are the result of artificial insemination, when the babies came naturally, and thirdly, their mother decided to give birth and refused caesarean section. I was in labor for a day, but ended successfully, frazzled mom happy, though, and didn't have time to see children.
In the capital, the woman gave birth to triplets.
TSN. 19:30
Yesterday, 22:04
Add to favourites
Three girls were born prematurely. They were the first triplets in Kiev since the beginning of the year. Mom was waiting for them, but their dad about the new addition he has admitted in the presence of TSN. The names came up with only two daughters, and to call a third, still hesitates.
The young mother is now most concerned about the housing problem, because they can't live together – own living space is not. However, the problems of family does not disappoint. "I gave birth to a second son – and just as the war started! And they say that the end of the war born", said mom. Due to the fact that earlier born, at the hospital, the girls will be here at least three months. Mom already knows how to call two bogdanos and Svetlana. With the third name still hesitates, but thinks that it will be Ilona.
The other day the triplets were born on the feast of Nicholas in the Ternopil region. There's also without artificial insemination.
The TSN reporter Nellie Kowalski
Comments
comments