Klimkin explained how changes to the Ukrainian border crossing procedure after the introduction of bezveza with the EU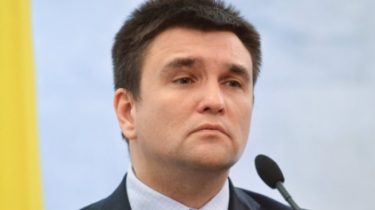 Klimkin explained how changes to the Ukrainian border crossing procedure after the introduction of bezveza with the EU
© UNIAN
The Minister assured that the Ukrainians will not waste the time of control for several hours.
After receiving a visa-free regime with the EU , Ukrainians will be able to take control on the border, with the documents only a biometric passport.
This was stated by foreign Minister Pavlo Klimkin in response to the question Tsna in the air "Sedanka z 1+1".
"The package of documents is only the biometric passport. But honestly I must say that you need to have more insurance because without insurance it's not working. When travelling by car, you have to have insurance against the risks involved. In the first stage will be minimal control, but it is insignificant" – he stressed.
According to Klimkin, at the entrance in the EU, Ukrainians may ask, what is the purpose of the trip, where they were going.
"But it all works out quite well for all countries with which the EU has a visa-free regime. Let's see how it works for visa-free Balkan countries or to Moldova," the Minister said.
The head of the Ukrainian foreign Ministry added that the first stage will need to have a minimum documents.
"The package means that will not need to collect all 16 or 18 documents several weeks to carry, the Embassy stand," – said Klimkin.
He also denied rumors regarding the fact that Ukrainians are forced to stand on the border for two hours.
Foreign Minister Pavlo Klimkin – when is a visa-free regime with the EU
Snidanok 1+1
Today, 09:29
Add to favourites
In Snidanku Minister of foreign Affairs of Ukraine Pavel Klimkin told when to expect a visa-free regime with Europe and what is now the diplomatic relations of Ukraine with Russia. Also talked about the tragedy in Berlin. There are fears that one of the Ukrainians died.
Recall, 15 December the European Parliament endorsed the introduction of a mechanism for suspension of visa-free regime between the EU and third countries. Also note that the European Commission has acknowledged that Ukraine has fulfilled all the conditions for visa-free regime in December 2015.
In the fall of 2016, the draft on granting the right of visa-free travel to Europe for citizens of Ukraine had been approved by the committees of the European Parliament. In November, the decision approved in the EU Council.
Comments
comments