In the Kiev housing and communal services for bulldozers under the guise of "Aydar" destroyed Mafy at the Kharkov array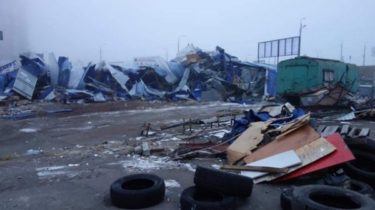 In the Kiev housing and communal services for bulldozers under the guise of "Aydar" destroyed Mafy at the Kharkov array
Kiev
Today, 11:52
1 of 6

©

1 of 6

© Facebook/Online Kiev | News | Incidents

1 of 6

© Facebook/Dmitry Chigrin

1 of 6

© Facebook/Dmitry Chigrin

1 of 6

© Facebook/Dmitry Chigrin

1 of 6

© facebook.com/dtp.kiev.ua
©

© Facebook/Online Kiev | News | Incidents

© Facebook/Dmitry Chigrin

© Facebook/Dmitry Chigrin

© Facebook/Dmitry Chigrin

© facebook.com/dtp.kiev.ua
The owners of the stalls people threw stones and fire extinguishers.
In Kiev, near the metro station "Kharkiv" housing and communal services for bulldozers demolished the Kiosks.
About it in social networks eyewitnesses, who also published a photo of the incident.
As noted, the kiosks began to destroy on the morning of Friday, December 23, on the street revutskogo, 40.
Also, the locals say that the destruction of the Kiosks took place under the guise of fighters of "Aydar".
The outraged owners of the trading pavilions began to build barricades and throw in the people who destroyed their property, paving, fire extinguishers and remnants of kiosks.
According to unconfirmed reports, sellers warned about the need to release the Mafs 2 months ago.
As it turned out, due to the collision between the utilities and the businesses suffered several people. In particular, one of the women received a wound in the head.
It is also reported that the alleged demolition of the Kiosks for the construction of a new residential complex.
We will remind, on the night of December 15, unknown defeated Maafi near the metro station "Obolon". The attackers asked the dealers to leave the premises and then walked through the booths with special equipment. Was also demolished an extension to the restaurant on the street Theodore Dreiser troyeschina.
On the night of December 22, unknown persons broke a few Kiosks near the metro station "Polytechnic Institute" in Kiev. In early December, near the same subway station was demolished nearly two dozen Kiosks.
Comments
comments