Putin did not answer, on what grounds has sent military in the Donbass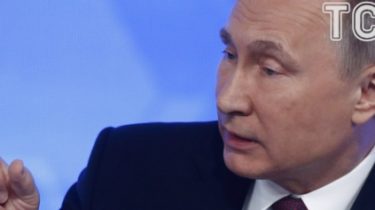 Putin did not answer, on what grounds has sent military in the Donbass
© Reuters
The question came from the Ukrainian correspondent.
Russian President Vladimir Putin during the press conference did not give a direct answer to the question about the Russian military in the Donbass.
Ukrainian news Agency UNIAN Roman Tsimbalyuk asked Putin why he was sent to the Donbass their military supposedly to protect the Russian-speaking population and where it is written in the Minsk agreement.
Read also: Putin's Control over Ukraine and the collapse of the US economy. Bloomberg issued a forecast for 2017
Tsymbalyuk also asked whether Putin realizes that even after he leaves the presidency, Ukrainians will consider the Russians invaders.
"Well, to the Donbas Ukrainian army did not consider the occupiers", he said. On the first question, no response was made.
Putin also stressed that supports the format of the exchange of prisoners "all for all". However, according to him, "the details are not satisfied with the representatives of Donbass".
The Russian leader added that the detainees were "members of military intelligence of Ukraine" was not beaten or tortured, and this information is easy to check.
"They give full alignment – the names of units, names of commanders, units in which they serve. They are all outstanding. It is a set of data, and one confirms the other," he added.
We will remind, the President of Russia Vladimir Putin said that relations between Ukraine and Russia "sooner or later" are normalized. He said this during a press conference in Moscow.
"I hope and am sure that sooner or later there will be normalization of relations with Ukraine. This will be very useful for the development of Russian-Ukrainian commercial and humanitarian spheres", – said the President of the Russian Federation.
Comments
comments