Ukrainian MPs were told how much money they need for happiness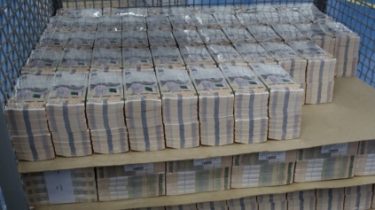 Ukrainian MPs were told how much money they need for happiness
© National Bank of Ukraine
The amounts ranged from 35 to 250 thousand hryvnias for a month.
Amid reports of a possible increase in the salaries of the deputies , the journalists asked them to call the amount needed elected representatives for a happy life. Policy response often recalled the episode with Ostap Bender and Shura Balaganov in the book "the Golden calf", says the story TSN.19:30.
"If you're talking about all the fads… I suppose… for men among the list there are not just women. Guns, shoot, hunt – it's all the same whims that require money," – said Teteruk, but the precise amount is not called. "Half a million would not be enough," admitted Mosiychuk. "About 100 thousand a month" – specifically said Logvinsky. "35-50 thousand" – more modest in requests Vadatursky.
DePuy happiness: officials admitted what amount of money makes them happy
TSN. 19:30
Yesterday, 20:26
Add to favourites
Deputies of the Verkhovna Rada told Daria Happy, how much money they need for happiness. Considering all the whim of some called even a specific amount of money per month.
Dialogue Bender with Balaganov in different interpretations and different amounts recalled Gerashchenko, Dobrodomov and kupriy. And Goncharenko said that is already a happy man, because he is enough for everything. "Given the fact that I am happy right now so I have enough of the money that I have. Is 250 thousand per month for a family," he explained.
As previously reported, sablate deputies in 2017 will be from 25 920 hryvnia ordinary member of the parliamentary Committee or Commission of up to 32 000 hryvnia from the Chairman of the Verkhovna Rada. It is envisaged in the project document, for which MPs will vote on Friday.
The TSN reporter Daria Happy
Comments
comments