In Kiev, there was a large-scale accident: injured father and son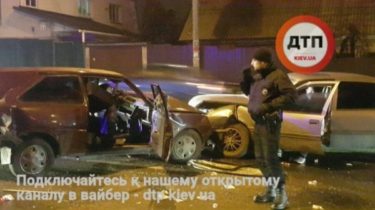 In Kiev, there was a large-scale accident: injured father and son
Kiev
Today, 04:16
1 of 9

© dtp.kiev.ua

1 of 9

© dtp.kiev.ua

1 of 9

© dtp.kiev.ua

1 of 9

© dtp.kiev.ua

1 of 9

© dtp.kiev.ua

1 of 9

© dtp.kiev.ua

1 of 9

© dtp.kiev.ua

1 of 9

© dtp.kiev.ua

1 of 9

© dtp.kiev.ua
© dtp.kiev.ua

© dtp.kiev.ua

© dtp.kiev.ua

© dtp.kiev.ua

© dtp.kiev.ua

© dtp.kiev.ua

© dtp.kiev.ua

© dtp.kiev.ua

© dtp.kiev.ua
On-site work by the police, I left quickly-an investigation team.
In Kiev, there was a large road accident with victims on the street: the driver of the Opel, ahead of the flow up on the opposite lane, rammed the "Tavria", which was thrown by a passing Daewoo.
This was reported in the group dtp.kiev.ua in Facebook.
Seriously injured the son and the father in the brand, they admitted to the hospital.
On-site work by the police, I left quickly-an investigation team.
See photos: Flight, flight and landing on the LFA: in Kiev there was a stunning accident
We will remind, earlier in the Lviv region there was a deadly accident that killed a police officer. The police said that the major was only 37 years old, now an orphan 9-year-old son.
In Odessa oblast the fog caused problems on the roads and at sea
TSN. 19:30
Yesterday, 21:02
The road was covered with a layer of thin ice. This led to several accidents on the highway Odessa-Reni. Forecasters predict that the residents of Odessa will be in captivity of natural phenomena, at least until the end of this period. Rescuers urge motorists to be especially careful because of the limited visibility on the roads. Problems with the fog and also in the sea. The port of Odessa has restricted the operation and is temporarily not accepting the vessel for service.
Add to favourites
Comments
comments