In the capital, law enforcers carried out a RAID on the "substitutes" casino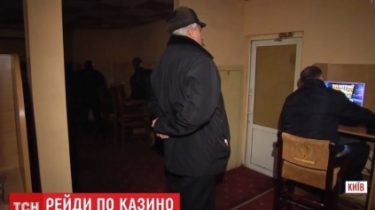 In the capital, law enforcers carried out a RAID on the "substitutes" casino
The police were interested in the activities of the clubs where gambling disguised as computer lotteries.
In Kiev law enforcement officers raided so-called clubs of entertainment where seized wads of cash, crates of vodka and packets of drug mixtures. Under the gun turned out to be shops selling lottery tickets and computer clubs, says the story TSN.19:30.
In the games room up to two dozen computers and all of the men are almost retirement age. They play for money and not even notice the appearance of the police. After the prohibition of gambling business in Ukraine the institutions providing such services had to be reformed: now they have no the croupier and roulette. The money given to the administrator, he sends them to a virtual account, and the player begins to play them. "I'm 71 years old. I go here not for the sake of winning, and to relax. I come here, some water I'll pour," says one of the players.
Piles of money, crates of vodka and packets of drugs: law enforcement officers staged a RAID on a casino
TSN. 19:30
Yesterday, 21:23
Add to favourites
Legislation casino is prohibited in Ukraine. But they work in secret. Law enforcement officers searched companies engaged in the illegal business. During the search, it was found almost 10 thousand hryvnias in cash.
The school works supposedly legally, the money from clients take, and even give to them for checks. But the cash register breaks only zeros. When the police investigate, the receptionist grabs the heart. "The police haven't managed to understand the difference between gambling and the law on lottery activity. Therefore, they are rash order shall take such action. Now all of the lottery, which are distributed in the institution, are legitimate," – says the lawyer of the company that owns Julia Ivakhnenko. Different opinion in Prosecutor's office. "At this time, there is information about the crime that is the occupation gambling. We will prove that in this room was a game of chance, the provision of services for this. Pre-judicial investigation proceeds", – said the Prosecutor V. oleinichenko.
During the day, the police visited six such institutions. But the information about the RAID quickly spread the capital and some places to visit of militiamen prepared and the property is well hidden.
The TSN reporter Dmitry Svyatenko
Comments
comments