In Kiev broke out a large-scale fire in the sky rose a black pillar of smoke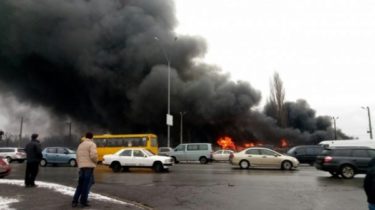 In Kiev broke out a large-scale fire in the sky rose a black pillar of smoke
Kiev
Today, 13:15
1 of 6

© VKontakte/accident and emergency | Kiev | Kiev Online

1 of 6

© VKontakte/accident and emergency | Kiev | Kiev Online

1 of 6

© VKontakte/accident and emergency | Kiev | Kiev Online

1 of 6

© VKontakte/accident and emergency | Kiev | Kiev Online

1 of 6

© VKontakte/accident and emergency | Kiev | Kiev Online

1 of 6

© VKontakte/accident and emergency | Kiev | Kiev Online
© VKontakte/accident and emergency | Kiev | Kiev Online

© VKontakte/accident and emergency | Kiev | Kiev Online

© VKontakte/accident and emergency | Kiev | Kiev Online

© VKontakte/accident and emergency | Kiev | Kiev Online

© VKontakte/accident and emergency | Kiev | Kiev Online

© VKontakte/accident and emergency | Kiev | Kiev Online
From-for a fire movement metro at two stations was stopped.
In Kiev, near the metro station "Forest" was a powerful fire.
This is reported by eyewitnesses of the incident in social networks, posting photos and videos of the fire.
It is also reported that the fire in a hurry rescuers and ambulance. The fire was suspended metro at two stations.
Attention!
because of the fire near the underground (Darynok) stations "Lesnaya" and "Chernihiv" is temporarily closed. Trains run to the "Darnitsa".
— Kyiv Metro Alerts (@kyivmetroalerts) 25 Dec 2016
Later it became known that the fire occurred in the warehouses.
"Burn warehouses with second-hand. Previously reported area of 100 sq. m. is Now reported about the 600, but the exact area of the fire is still unknown," – said the press-Secretary of the SSES of the capital Svetlana Vodolaga, writes "Ukrainian truth. Kiev".
At the moment, information about victims is missing.
The people of Kiev are already suggesting that this is another demolition of Kiosks in the capital. Local traders say that because the territory has long been was a conflict, and called the incident arson.
While the official version of the cause of the fire is not.
Comments
comments