Militants "DNR" mass transportation of their families from the occupied territories – Tymchuk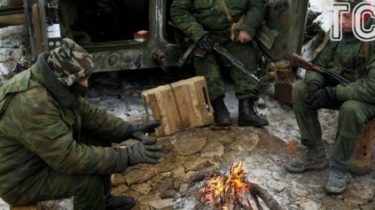 Militants "DNR" mass transportation of their families from the occupied territories – Tymchuk
© Reuters
The hype contributes to the spread of rumors in the ranks of fighters that APU is preparing a "massive offensive".
The militants and the so-called "DNR officials" are taken from their families from the occupied Debaltsevo, Uglegorsk and other settlements close to the boundary line.
About this on his page in Facebook wrote MP, the coordinator of group "Information resistance" Dmitry Tymchuk.
"Noteworthy is the sharp increase in the number of firepower of the invaders at the forefront in a number of areas (especially it concerns heavy machine guns and mounted grenade launchers). In particular, a similar situation is recorded in the areas around the Donetsk airport; the area South-West of Gorlovka (area of Vasil'evka – Wide Beam); the Petrovsky district of Donetsk; plot North Sahanki (Kominternovo district – October)", – Tymchuk reported.
It is also noted that occupants gradually realign their troops in the area of Group – Bayrak. In addition, to the East of the railway station Sukhyi Yar, Tymchuk added, there is significant movement of vehicles and armored vehicles of the enemy.
"There is reason to believe that the contingency tactical group "3-th omsbr" invaders (up to reinforced company), moved to the right flank to amplify the plot up to the Milk", he added.
According to tymchuk, on 20 December, the militants of the "1 St of AK DNR" and "officials" of "DNR" mass transportation of their families from Debaltsevo, Uglegorsk, Debaltsevo (former Municipality) in connection with the worsening conflict on the demarcation line in the area.
"The hype contributes to the spread of rumors in the ranks of fighters that after the "reconnaissance" in the area of Svetlodarsk arc APU is preparing a "massive offensive" on debaltseve. The main part of the families of militants taken out in Gorlovka, which may subsequently evacuating them deep into the occupied territory", – stated in the message.
We will remind, in "DNR" there is a low level of pensions of citizens of "Republic", not taking into account of pensions received from Ukraine.
Comments
comments