In the hospital "OKHMATDYT" instead of Santa Claus came work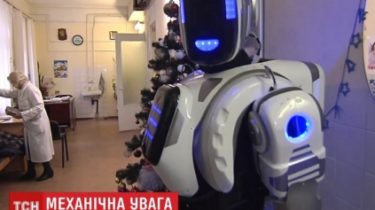 In the hospital "OKHMATDYT" instead of Santa Claus came work
A feast for sick kids turned out great.
In the pediatric ward of the hospital "OKHMATDYT" came today "cyborgs". Children with machines hugged, took selfies and admitted that such a "mechanical" attention feel better, says the story TSN.16:45.
Robot Danko growth with an adult and loves to do a selfie. In a festive hat in the corridors of the pediatric ward appeared Lex, which requires sprinkles hugs and wishes of good health. Tired of the long-term treatment for serious illnesses children like this holiday was for happiness. They even tried to persuade the robots to sing along, but they just danced.
Laughter and good humor, given to the kids to have a medicinal effect. "Treatment and diagnosis is difficult, and this game is good. Children can relax and be distracted from their illness," says a teacher of pediatric Department Valentina Lutsenko.
The TSN correspondent Natalia Nagornaya
Children "Ohmatdyt" is the snow maiden congratulated robot
TSN. 16:45
Today, 18:30
Add to favourites
To the pediatric Department of hospital "OKHMATDYT" was visited today by cyborgs. Children with machines hugged, took selfies, and admitted that such mechanical attention feel better.
Comments
comments