Swedish police, who in a bikini effectively arrested the robber, retired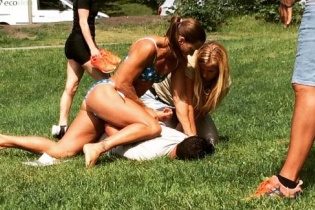 Swedish police, who in a bikini effectively arrested the robber, retired
© Instagram/Mikaela Kellner
Michaela Kellner has dedicated his work for 11 years.
An employee of the Swedish police Michaela Kellner, which in the summer of this year graced the front pages of many publications after during your holiday effectively arrested the robber, resigned.
So, after 11 years of police work Kellner went to such a step due to the deterioration of working conditions and the reorganization of the law enforcement authority of Sweden, reports The Independent.
"The main reason that I'm uncomfortable due to a recent reorganization. I don't think that with the police now behave honestly as it should be," explained the ex-COP.
Now Kellner plans to become a personal trainer.
Recall that the Swedish COP became famous when during the rest detained in the Park Stockholm robber. Then the thief obviously has not calculated their strength. Kellner – athlete and police officer with lots of experience. After that, the woman published a photo in Instagram of detention, which has gained more than 23 thousand likes.
Athletic Swedish police in bikini arrested the robber
Curiosities
July 30, 10:55
1 of 8

The detention of the photo
© Instagram/Mikaela Kellner

1 of 8

Photo from Facebook police sports
© Instagram/Mikaela Kellner

1 of 8

Photo from Facebook police sports
© Instagram/Mikaela Kellner

1 of 8

Photo from Facebook police sports
© Instagram/Mikaela Kellner

1 of 8

Photo from Facebook police sports
© Instagram/Mikaela Kellner

1 of 8

Photo from Facebook police sports
© Instagram/Mikaela Kellner

1 of 8

Photo from Facebook police sports
© Instagram/Mikaela Kellner

1 of 8

Photo from Facebook police sports
© Instagram/Mikaela Kellner
The detention of the photo
© Instagram/Mikaela Kellner

Photo from Facebook police sports
© Instagram/Mikaela Kellner

Photo from Facebook police sports
© Instagram/Mikaela Kellner

Photo from Facebook police sports
© Instagram/Mikaela Kellner

Photo from Facebook police sports
© Instagram/Mikaela Kellner

Photo from Facebook police sports
© Instagram/Mikaela Kellner

Photo from Facebook police sports
© Instagram/Mikaela Kellner

Photo from Facebook police sports
© Instagram/Mikaela Kellner
Comments
comments