Happiness, health and ammunition: what is your wish for the New year with the advanced fighters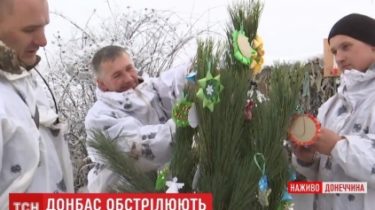 Happiness, health and ammunition: what is your wish for the New year with the advanced fighters
Military happy holiday and most of all I wish Ukrainians the world.
The mood of the soldiers at the front, such as a festive and peaceful land. The military have big hopes for ending the war in 2017, according to a story TSN.19:30.
On the festive garments at the forefront, no question, but the tradition of the guys are trying to support. From early morning military near Gorlovka decorating the tree – decorating gave Kiev students with hearing impairments. Soldiers joke that the Christmas tree as the mascot, the night would be protected from shells. "Reminds me of home," they say and laugh that it is even better because of gifts to buy and a put is not necessary. "More ammunition," adds one of the fighters. The question asks whether he is Santa Claus, replied: "Yes, Santa Claus there is a certain call".
Seriously I wish the military myself and sister a happy return to the family and friends, but the whole Ukraine peace, love and all the best. In Avdeyevka on the advanced positions already taken up night combat duty, and generally keep alert, because you don't know what vzbredet in the head to the enemy after 0:00 hours. So the soldiers do not allow themselves even a symbolic glass to celebrate homemade compote. A well-known fighter with the call sign "Santa" along with his unit on the occasion congratulated all Ukrainians. "In the new year peace, but only through victory! Glory To Ukraine!", he says.
The TSN reporter Eugene Zvecanska
Festive mood and combat readiness: how is the military to celebrate the New year on the front lines
TSN. 19:30
Today, 19:53
Add to favourites
From early morning military near Gorlovka decorated the tree, the decorations, gave the Kiev students with impaired hearing. The soldiers joke that it as a talisman tonight will be protected from projectiles. At the forefront of the country is quiet. Instead of champagne, here celebrating homemade compote. Not here no sparks, no fireworks, because it is dangerous, the enemy is able to calculate the position.
Comments
comments