In Sydney the first sunrise of the New year met Topless beach party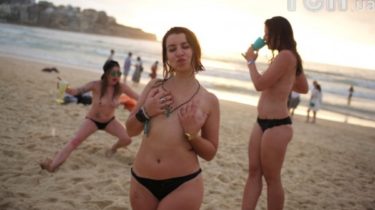 In Sydney the first sunrise of the New year met Topless beach party
Curiosities
Today, 01:12
1 of 15

© Reuters

1 of 15

© Reuters

1 of 15

© Reuters

1 of 15

© Reuters

1 of 15

© Reuters

1 of 15

© Reuters

1 of 15

© Reuters

1 of 15

© Reuters

1 of 15

© Reuters

1 of 15

© Reuters

1 of 15

© Reuters

1 of 15

© Reuters

1 of 15

© Reuters

1 of 15

© Reuters

1 of 15

© Reuters
© Reuters

© Reuters

© Reuters

© Reuters

© Reuters

© Reuters

© Reuters

© Reuters

© Reuters

© Reuters

© Reuters

© Reuters

© Reuters

© Reuters

© Reuters
Vacationers gathered on one of the most popular beaches of Sydney.
On the beach Bondi beach in Sydney, Australia youth threw a party welcoming the first sunrise of the new, 2017.
Campers swam in the ocean, made selfi on the background of the rising sun, drank and danced, and some women staged a Topless party. No embarrassment, girls loudly celebrated the New year and posed for photographers.
Comments
comments