In the USA a naked woman stole a Sheriff's car and police staged an epic chase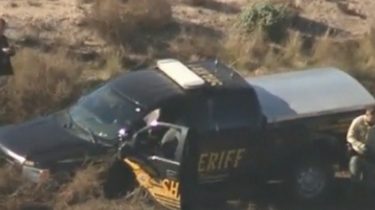 In the USA a naked woman stole a Sheriff's car and police staged an epic chase
© Fox10
Before that, the woman reported the sexual violence.
In American state Arizona was an unusual incident: a naked woman stole a Sheriff's car to the police and started to run away from law enforcement at speeds up to 120 km/h. In the end, she got in an accident and was taken to the hospital.
About it reports TV channel Fox10.
The series of events began when the Sheriff's office of the city Maricopa County called the employee of the gas station and reported that at a gas station is a naked woman.
See also: In Britain a naked woman walking around the streets in broad daylight
When the Deputy Sheriff arrived at the scene, the woman told him that she was raped. The militiaman got out of the car to get something out of it to cover the victim. But at this moment a woman jumped into the Sheriff's car and sped away.
The Sheriff's Deputy jumped on the car trying to stop her, but fell and was injured. One of the motorists who witnessed the incident, offered his car and the police started chasing the suspect. Subsequently he was joined by other police crews.
The police tried to stop the woman by means of a strip with spikes, but this attempt was not successful. In the end a naked woman lost control and collided with another car near the town of ILA. The woman was detained and brought her to the hospital.
See also: the "Naked" fight: passers-by took the spicy fight between the girls
Recall that in the Republic of Costa Rica in broad daylight walked a naked woman. Hot brunette was walking down the street and undressed, throwing the oncoming cars in his clothes. The incident was videotaped by a passerby.
Fully pursuit can be seen on this video
Comments
comments