BDSM clothing and racy lingerie. What Instagram posts in Busty "kolezhanka" of Yanukovych's son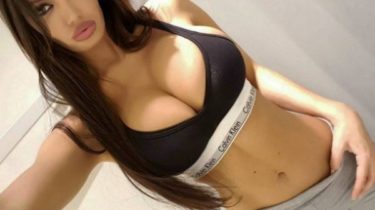 BDSM clothing and racy lingerie. What Instagram posts in Busty "kolezhanka" of Yanukovych's son
Curiosities
Today, 13:11
1 of 10

A photo from Instagram of Soraya Vucelic
© instagram.com/sorajavucelic

1 of 10

A photo from Instagram of Soraya Vucelic
© instagram.com/sorajavucelic

1 of 10

A photo from Instagram of Soraya Vucelic
© instagram.com/sorajavucelic

1 of 10

A photo from Instagram of Soraya Vucelic
© instagram.com/sorajavucelic

1 of 10

A photo from Instagram of Soraya Vucelic
© instagram.com/sorajavucelic

1 of 10

A photo from Instagram of Soraya Vucelic
© instagram.com/sorajavucelic

1 of 10

A photo from Instagram of Soraya Vucelic
© instagram.com/sorajavucelic

1 of 10

A photo from Instagram of Soraya Vucelic
© instagram.com/sorajavucelic

1 of 10

A photo from Instagram of Soraya Vucelic
© instagram.com/sorajavucelic

1 of 10

A photo from Instagram of Soraya Vucelic
© instagram.com/sorajavucelic
A photo from Instagram of Soraya Vucelic
© instagram.com/sorajavucelic

A photo from Instagram of Soraya Vucelic
© instagram.com/sorajavucelic

A photo from Instagram of Soraya Vucelic
© instagram.com/sorajavucelic

A photo from Instagram of Soraya Vucelic
© instagram.com/sorajavucelic

A photo from Instagram of Soraya Vucelic
© instagram.com/sorajavucelic

A photo from Instagram of Soraya Vucelic
© instagram.com/sorajavucelic

A photo from Instagram of Soraya Vucelic
© instagram.com/sorajavucelic

A photo from Instagram of Soraya Vucelic
© instagram.com/sorajavucelic

A photo from Instagram of Soraya Vucelic
© instagram.com/sorajavucelic

A photo from Instagram of Soraya Vucelic
© instagram.com/sorajavucelic
According mass-media, the son of the fugitive will be to build apartments with a Playboy model.
The media broke the news that the son of ex-President of Ukraine Viktor Yanukovych Oleksandr Yanukovych plans to develop the business of real estate, together with the Serbian model and Playboy star with Soraa Vucelich.
The girl is known not only provocative photos, but also scandals – previously it had been planned to lead their own political party and met with Brazilian footballer Neymar.
On his page in social network Instagram Vucelic shows off the charms that barely conceals revealing clothes, publishes photos drive a Mercedes and post candid pictures. Among her posts and the screenshot of the news about the joint business with Yanukovych Junior.
Earlier, the Serbian newspaper Informer reported that the son ex-the President of Ukraine Viktor Yanukovych Oleksandr Yanukovych, who like his father is under international sanctions, has decided to invest 13 million euros in the construction of apartments and business objects in Montenegro. Selling real estate will deal with the 31-year-old Serbian model and star of Playboy Sara Vucelic.
With her Alexander Yanukovych met last year in the summer on the Montenegrin coast, they were introduced by a mutual friend. In conversations they found that they have joint plans for investment in construction, and therefore decided to combine business interests.
Very Vucelic information neither confirmed nor denied.
Comments
comments