In the Donbass increased the number of "kadyrovets", which curb militants – media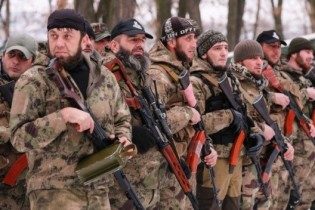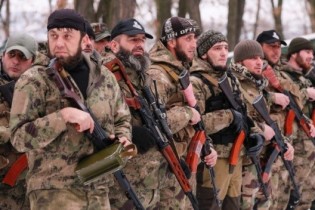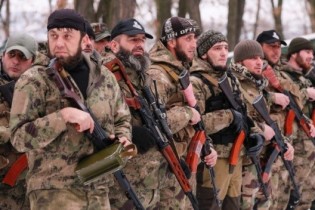 In the Donbass increased the number of "kadyrovets", which curb militants – media
During December of 2016 the beginning of January 2017, their ranges were replenished with new arrivals.
In the occupied territories of Donbass significantly increased the number of immigrants from Chechnya, the so-called "Kadyrovites".
They came, probably in order to suppress those separatists who got out of control, reports "Ukrainian truth" citing its own sources in the counterintelligence of SBU.
It is noted that at the end of November 2016 in the occupied Donetsk beginning to increase significantly the number of militants with a sign with "NORTH" and a picture of 2 flags (of the Russian Federation and the Chechen Republic). This unit is based in the occupied Donetsk on the territory of the former Department of internal Affairs on the Donetsk railroad.
See also: In Mariupol direction, the ATO are talking about the appearance of Kadyrov
The publication reports that during December of 2016 the beginning of January 2017, their ranges were replenished with new arrivals. In the occupied Donetsk locals call them "Kadyrov's men", because their cars are often portraits of the head of the Chechen Republic Kadyrov.
In addition, militants of the"Kadyrovites" seen in Budyonnovsk the district of Donetsk and in the village of Oleksandrivka in the Donetsk region, who arrived with the aim of further deployment.
According to sources, in early January in Yasinovataya arrived battalion of Interior Ministry troops Russia "North" that consists almost entirely of fighters of Chechen nationality. This Department is first in full force was stationed in Yasynuvate, and then groups of fighters of the battalion "North" was eliminated from the various divisions of militant groups "DNR" with the aim of strengthening the position.
See also: "Kadyrovtsy" in the Donbass is ready to sell a mother – ATU fighter from Chechnya
The source also said that participation "Kadyrovites" in the fighting are not recorded. The source stressed that "the units arrived to combat the uncontrolled occupation command of the armed forces in the occupied territories of the Donetsk region, the intimidation of the local population in order to prevent a possible "hungry" riots and out of control Russian curators of local groups of militants".
It is reported that in 2006, under the patronage of Ramzan Kadyrov was created battalions "North" and "South". Structural battalions became part of the 46-th separate brigade of interior troops of the Russian Federation. The total number of both military units made up of more than 1200 people. The battalions were manned exclusively by servicemen that pass military service under the contract. Regiment Sever a staff of more than 700 military personnel based in Grozny.
Comments
comments