New year award in the administration of sea ports totaled 1.5 million per person – Omeljan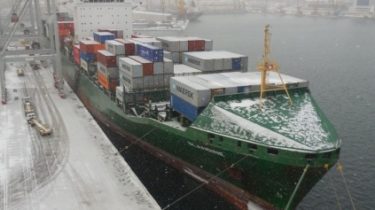 New year award in the administration of sea ports totaled 1.5 million per person – Omeljan
© Administration of sea ports of Ukraine
The Ministry started the reform of the Administration of seaports of Ukraine.
Today, January 10, the Ministry of infrastructure began the reform of the Maritime industry with the change of leadership of the state enterprise "Administration seaports of Ukraine" (ASD). The previous top managers knew about the beginning of the reform, and finally to appoint a premium that was 1.5 million UAH for one person.
This was announced by the Minister of infrastructure Vladimir Omelian. About changes in the industry, he announced a month ago, in early December.
"Perhaps that is what prompted the leadership that we are now changing to award themselves bonuses for December in the amount of 700 thousand hryvnias to 1,5 million hryvnias on the person. And this is the only official award. One can only imagine the scale of abuse at the state enterprise", – said Omeljan.
The Minister also complains that ASD is too corrupt and uncontrollable governmental structure.
"Despite repeated attempts by the government and the Ministry of infrastructure of Ukraine to normalize the activity of ASD, is a state-owned enterprise remains a model of inefficiency, corruption and abuse. There are many questions about controllability of ASD. In addition, such resistance on the part of the company's management on any proposal of the Ministry to streamline its work was not, perhaps, anywhere. All our solutions are blocked or ignored. Therefore, we are changing the management of ASD, what will be the first step in a large-scale reform of the Maritime industry," said Omeljan.
See also: Ministry of Infrastructure dekommunizirovali sea port "Oktyabrsk"
The acting Chairman of SE "USPA" appointed Sergei Gronsky.
"This week will be appointed the new acting head of AMPU – Raivis Veckagans" – said Omeljan.
Raivis Veckagans – citizen of Latvia, has more than 16 years of experience in the management of enterprises sector of transport and logistics, shipping and financial services. He held the positions of Board member, Vice-President of JSC "Latvian shipping company", a Board member of the largest port terminal for handling bulk and General cargoes in the Baltic States "Rigas Centralais Terminals", Chairman of the Board of SIA "Riga Container Terminal".
In the future the current functions of the ASD will assume the newly created Maritime administration.
"There would also be a significant optimization of the structure and personnel of the enterprise. So, question number one – change management, reform and parallel with this corporatization, as required by Ukrainian legislation," – said the Minister of infrastructure.
Earlier, Omeljan proposed to change the name of the Ministry of infrastructure.
Comments
comments