Skewers on a naked body and vulgar dances. Network outraged "anticonference" Tsykov in Kiev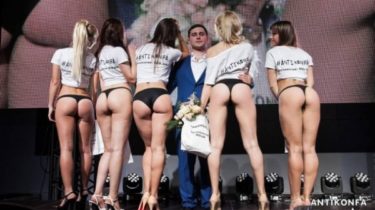 Skewers on a naked body and vulgar dances. Network outraged "anticonference" Tsykov in Kiev
Kiev
Today, 18:14
1 of 13

Photo from "anticonference"
© facebook.com/antikonfa

1 of 13

Photo from "anticonference"
© facebook.com/antikonfa

1 of 13

Photo from "anticonference"
© facebook.com/antikonfa

1 of 13

Photo from "anticonference"
© facebook.com/antikonfa

1 of 13

Photo from "anticonference"
© facebook.com/antikonfa

1 of 13

Photo from "anticonference"
© facebook.com/antikonfa

1 of 13

Photo from "anticonference"
© facebook.com/antikonfa

1 of 13

Photo from "anticonference"
© facebook.com/antikonfa

1 of 13

Photo from "anticonference"
© facebook.com/antikonfa

1 of 13

Photo from "anticonference"
© facebook.com/antikonfa

1 of 13

Reaction to a "anticonference"
© Raguli

1 of 13

Reaction to a "anticonference"
© Raguli

1 of 13

Reaction to a "anticonference"
© Raguli
Photo from "anticonference"
© facebook.com/antikonfa

Photo from "anticonference"
© facebook.com/antikonfa

Photo from "anticonference"
© facebook.com/antikonfa

Photo from "anticonference"
© facebook.com/antikonfa

Photo from "anticonference"
© facebook.com/antikonfa

Photo from "anticonference"
© facebook.com/antikonfa

Photo from "anticonference"
© facebook.com/antikonfa

Photo from "anticonference"
© facebook.com/antikonfa

Photo from "anticonference"
© facebook.com/antikonfa

Photo from "anticonference"
© facebook.com/antikonfa

Reaction to a "anticonference"
© Raguli

Reaction to a "anticonference"
© Raguli

Reaction to a "anticonference"
© Raguli
Some swotin shocked by his frankness.
In social networks actively discussing "anticonference" employees from the IT sector, which took place in December in Kyiv.
The event called "Anticopy" staged in one of the capital's clubs on December 9, however, actively discuss in a Frank and vulgar photo party started just now, after the publication in the popular Facebook group "Raguli".
Organizers of the party on his website wrote that he decided to create an event where "instead of successful cases will only be stories about failures," but promised to "Shisha, alcohol and service in the hall."
Read also: the Police took the immoral incident in the club Coloma: public sex faces imprisonment
Photos from the conduct "of anticonference" 18+ is full of photographs of naked women – they danced a Striptease, Nude models eat a kebab, and some of the participants in their underwear was under the table.
In the comments to photos of the event, people are outraged because of too Frank rooms and write that the organizers of these parties degrade women.
Raguli
Reaction to a "anticonference"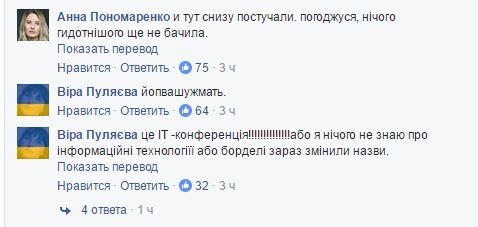 Raguli
Reaction to a "anticonference"
However, there are those who stand up for such events. Users write that the organizers paid for the show, which "consider it necessary".

Raguli
Reaction to a "anticonference"
Also in the comments of users indicate that the ticket for this event sell for 270$.
Earlier it was reported that in the Moscow hotel during the celebration of the 700th anniversary of the Russian ruble staged a fight of girls in bathing suits in pool with black caviar. In the video, two women in black suits with symbols of Euro and dollar dig in an inflatable pool and stain each other expensive delicacy. They trample the eggs with their feet and beat her.
The action took place with the support of the Ministry of culture of the Russian Federation
Comments
comments