Journalist of The Economist predicted that awaits Ukraine and Russia in the future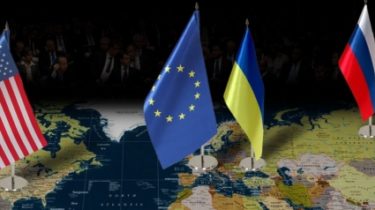 Journalist of The Economist predicted that awaits Ukraine and Russia in the future
© Dnia
According to Ostrovsky, the arrival of trump can be a gift, and can be a problem.
All that is now happening in Ukraine, Russia, Europe and America, is part of a great process variations and deviations.
In an interview with "New time" told the British journalist and head of the Moscow Bureau of the Economist Arkady Ostrovsky.
"It's very difficult. The picture of the world no General: was formerly the European Union, was the West – as something based on values. Now what? Where will Ukraine join? We live in a rapidly changing world, and for Putin, the arrival of trump can be a gift and maybe a problem. There is no future. That is, it exists, but here a question already. I used to think that Ukraine will succeed, but in Ukraine, apparently, is no picture of the future," he said.
See also: are We in Nazi Germany? Trump harshly denies its relations with Russia in a controversial dossier
According to Ostrovsky, Ukraine is now in a weak position, and not only of Russian aggression, because it has really United the country, otherwise the political crisis would be stronger.
"There is a massive mismatch events which occurred in 2014, the blood that spilled there, and the level of responsibility in the ruling class. Independence, of course, was a revolution, but it did not lead to the change of the elite, because, as it turned out, the elites, the other does not. And one that is not elite. There is, of course, a strong civil society, which the West is trying to build parallel institutions, but the process is long and time is short. And who would win in a fight is unclear," – said the head of the Moscow The Economist, noting that the current rulers of Ukraine behave as if Maidan was not.
"And I have a strong fear that the government is rather weak, and Ukraine has not yet experienced the moment. Your country has covered almost everything, but has not yet passed the test of nationalism and populism. That is, populism has already partially passed – the same Yulia Tymoshenko, but such a desperate connection of populism and nationalism was not yet. And I think therein lies the danger," – said Ostrovsky.
At the same time, he believes that Russian President Vladimir Putin did not allow the victory of Donald trump in US elections, because he was sure that the whole world is doing the same as Russia, so the administrative resource, Hillary Clinton will be able to ensure her victory.
"And then suddenly wins the trump, and like all Kremlin hopes come true. But as they say, beware of their dreams. If all people like us – who fight? And without war does not manage to mobilize the population. You can tell that now Russia respect, but to show that on TV?" – he said, adding that one of the main elements of Putin's propaganda is anti-Americanism.
Read also: Russia has dirt on trump – CNN
Separately Ostrovsky also noted that earlier, Putin could play unpredictable, but now there is trump, "and who knows, mad or not".
"But if trump crazy? It was easy to send Obama – the predictable, the realist. You can do anything, knowing that he will not be with you to fight in earnest. And this can answer. Easily. And then what Putin will do? Detonate a nuclear bomb? If trump decides to shoot down a Russian plane, for example? We are entering an unpredictable phase," – summed up the head of the Moscow Bureau of the Economist.
Comments
comments