In Kiev detained the armed Chechen-ATO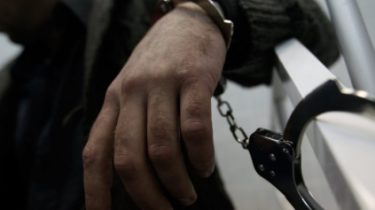 In Kiev detained the armed Chechen-ATO
The patrol caught the man, when tried to trace the robbers.
The police in the center of Kiev detained the armed driver. He introduced himself as the fighter of the Chechen volunteer battalion fighting in the ATO zone in Ukraine, says the story TSN.19:30.
Behind the wheel he was wearing a bulletproof vest, under a jacket had two pistols with live ammunition. The police showed the identity of Timur Makhauri reconnaissance of the Chechen volunteer battalion. This unit is really fighting near Mariupol and the commander on the phone confirmed to TSN that the capital is detained has their fighter. "Man on a mission in Kiev", – he explained.
Police in Central Kiev detained Chechen scout
TSN. 19:30
Yesterday, 20:11
Add to favourites
At about midnight a patrol caught probable robbers. However, caught the armed Chechen Timur Makhauri. He was a scout volunteer Chechen battalion fighting in Ukraine near Mariupol. Where to send armed men to watch in the material TSN.
Friends Makhauri say that he came to Kiev for a few days and on Monday had to return to the area ATO. The patrol came across a Chechen, when catching up with probable robbers. Explain that the day before received orientation on "Mercedes" with the Georgian numbers, and Chechen driving caught accidentally. "Who did he Rob? They have someone on a tip searched, but he was not robbed," says the friend of the detainee, the Donkey, who managed to see in my office with Timur.
Makhauri insists that the weapons that were seized from him, he does not belong, and articles on the Internet, where Makhauri is credited with high-profile murders and even connections with the FSB, comrade immediately denies. "In Ukraine, he arrived eight months ago, and since then, is in our battalion after it from Turkey were deported. He sat there on false charges for three years. Turkish justice he was completely acquitted and released," says the Donkey.
The scandalous case Karpyuk: of Ukrainians beat readings on the participation of the opposition in the Chechen war
Kiev
Yesterday, 22:59
1 of 10

© Dnia

1 of 10

© Dnia

1 of 10

© Dnia

1 of 10

© Dnia

1 of 10

© Dnia

1 of 10

© Dnia

1 of 10

© Dnia

1 of 10

© Dnia

1 of 10

© Dnia

1 of 10

© UNIAN
© Dnia

© Dnia

© Dnia

© Dnia

© Dnia

© Dnia

© Dnia

© Dnia

© Dnia

© UNIAN
He calls Timur person, who at any moment can kill Kadyrov. Friends on Monday were on duty near the police station in the hope that there was a misunderstanding and Chechen let go. The charges against the accused are not yet filed, but will not let him go. The police in the course of the day from comments evaded.
The correspondent TSN Valentine Mudryk
Comments
comments