Heroic rescue. In Argentina, the brave dog pulled from the raging river of his friend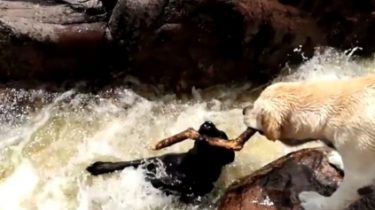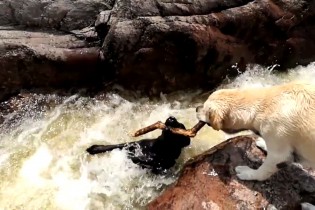 In Argentina, the brave dog rescued from the water by his friend.
In a video posted to YouTube, shows how the two dogs frolicking near the river. One of them ran over a stick which he threw into the water.
See also:
A dog's loyalty. In Transcarpathia, the dog two days covered a wounded friend on the track
Thus he was in swift current and could not get, she slipped on the stone. In turn, the other Labrador grabbed his stick and helped to get out of the water.
In the description of the video says that none of the dogs were not injured. And they love to play in the water and know this part of the river.
We will remind, earlier in Peru quadruped accompanied his master to the hospitalwhen he became ill. On animal behavior it was clear that they worry about the owner. In the carriage they were lying near him, sniffing and licking.
Comments
comments