Parasyuk swears that he beat a police officer in Bahmut, and even brought his tangerines to the hospital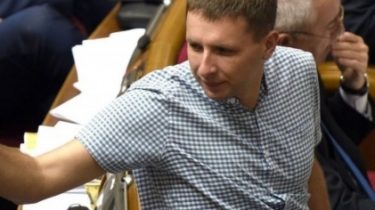 The police in Donetsk region conducts a legal assessment of the incident at the checkpoint Bachmuth with the participation of non-faction people's Deputy Vladimir parasiuk and police.
About it reported in a press-service of the Main Directorate of Ukraine in Donetsk region, reports Ukrainian Pravda.
See also:
Dekanoidze announced the opening of a criminal case because of a fight parasiuk and Vilkul
The speaker of Ukraine Yaroslav was Trakalo also confirmed that parasiuk brought the case.
Previously, the Agency "Ukrainian news", citing a source in the police reported opening of criminal proceedings on the fact of beating the people's Deputy On the police.
Parasyuk said that did not beat a police officer and doesn't know anything about opening a case against him.
"Nobody hit anybody. We had a verbal and emotional sparring. At the checkpoint detained the veterans of the ATO. Kept 3 hours. Wanted to fabricate a case. Began to invent all sorts of provocations. Went to the scene. I and Taras Pastukh. Understood. It was perhaps with raised voices, but no one is hit. The policeman from the district Department began to fabricate a case", – told his version of the incident Parasyuk.
"Moreover, yesterday I took the tangerines and bananas, and with the guys we went to see "beaten" policemen, but in the house we never found him. According to doctors, he with normal blood pressure and healthy skin color went home on foot. And tell me how you can call a thorax bruise the man in the vest?", – added the MP.
Comments
comments