Despite clashes with the police, continues in the East of the railway blockade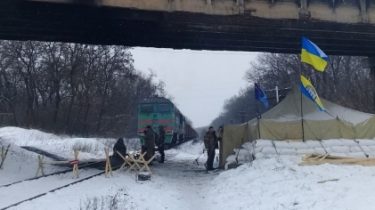 Despite yesterday's clashes with the police, railway blockade of the occupied part of Eastern Ukraine continues, said TSN in its headquarters.
Railway connecting free Ukraine from the territories controlled by the militants have been blocked in two places.
On the eve of the protesters stopped on the road several buses. There were police officers, who, headed by the chief of police of the Donetsk region Vyacheslav Abroskin by driving to the blockade. There was a clash during which police used batons and tear gas, and weapons removed from the fuses.
After that six activists were in the hospital. The people's Deputy Semyon Semenchenko said that the buses drove titushky and police beat and violently dispersed blockers. Abroskin posted his version of the conflict. Mol, transport was not the aunts, and the usual employees of the power plants. And the police acted within their powers.
We will remind, in parallel with the "creeping offensive" began and the"rail war" against the militants. It has announced a group of former participants in the war in the East, and civil society activists. On 25 January they blocked the railway track Popasna-Lysychansk-Luhansk to terminate all economic relations with the occupied territory.
Comments
comments