Invitation to the SBU instead of an interview. Ukrainian Embassy potrolit daring Graham Phillips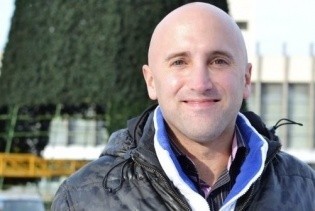 The controversial Briton Graham Phillips, who calls his provocative activities journalism, turned to Twitter to Ukrainian diplomats. In his post he noted that he wrote an official request for an interview with the Ambassador Natalia Galibarenko and waiting for an answer.
See also:
"Puppet" propagandist Graham Phillips was expelled from the Parliament of Britain under the cries of "Shame!"
In his remark, the Embassy of Ukraine in United Kingdom of great Britain replied that he can arrange a "interview" in the building of the security Service of Ukraine in Kiev.
"We are ready to offer "the interview" in Kiev on Vladimirskaya street, 33 in the security Service of Ukraine", – stated in the message.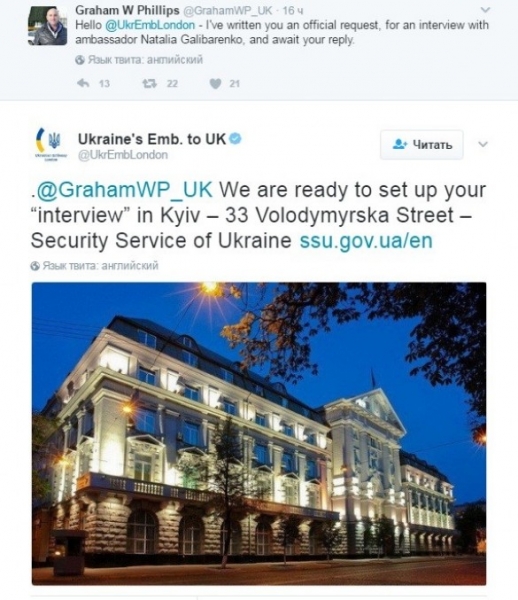 The response of the Ukrainian Embassy Pllps
Phillips after this answer I decided to contact the British foreign Minister, Boris Johnson.
So @BorisJohnson – when I ask @UkrEmbLondon for interview,as an independent journalist,the reply was a threat. Ukraine is not a serious country. pic.twitter.com/CNgx3Wwo5a
— Graham W Phillips (@GrahamWP_UK) February 9, 2017
"When I ask for an interview at the Embassy of Ukraine in great Britain as an independent journalist, in response to receiving the threat. Ukraine is not a serious country," he wrote.
One of the latest provocations Phillips was hurt released from captivity of fighters Wladimir Zhemchugova, which is due to the stretching of undermining left without eyes and hands. Provocateur shouted inappropriate words with a brazen smile and filmed the reaction of the Ukrainians in the video.
Also during the Euro 2016 he came to the Ukrainian fans and asked them whether they are "punishers, which kill civilians in the Donbass". The majority of Ukrainians on the question of the promoter reacted cautiously, answering him with a song about Putin and exposing the lies of a propagandist.
Graham Phillips after appearing on the East of Ukraine in 2014-2015 on the side of Pro-Russian terrorists was deported in July of 2014 from Ukraine in March 2016 from Latvia, now he's settled in the occupied Crimea.
Comments
comments