The FSB is calling residents of the Donetsk region, to learn about respect for Zakharchenko – Hur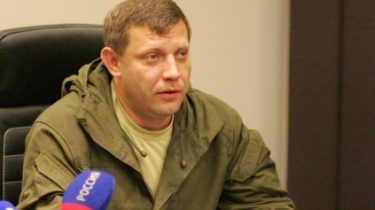 FSB Russia under the guise of representatives of local media provides an anonymous telephone survey of the population of the temporarily occupied territories of Donetsk region regarding the personal attitude towards the so-called head of the "DNR" Alexander Zakharchenko.
It is reported by the Main Department of intelligence of the Ministry of defense of Ukraine in Facebook.
In addition, people interviewed about the methods of management activity.
See also:
Poroshenko told how many Ukrainian soldiers have died since the beginning of aggravation of the situation in the Donbass
Also the Russian "command" instructed to increase pressure on representatives of the OSCE.
"The Russian occupation command this instruction manual 1 AK (Donetsk) of the armed forces to increase pressure on representatives of the OSCE and mislead members of the Special monitoring mission regarding the number of attacks and their directions along the line of demarcation. Thus, observers were not given permission to visit the settlements, which was allegedly fired by the ATO, but also hindered the monitoring of potential places of import of military equipment from the territory of the Russian Federation", – stated in the message.
See also:
"Novorossiju merge": "LDNR" intensify the mood of panic among militants
On the territory of Russia, in particular, intensified recruiting centers "volunteers" for further direction in the Donbass.
"Selected personnel sent to the collection point in the Rostov region with the purpose of their additional training and distribution. Priority is given to those who already have combat experience, including in Syria," according to Gur.
Earlier it was reported that on Donbass, the militants "11th omsp" is rumored to conduct an offensive operation to return the positions at Avdeyevka direction. According to Tymchuk, most of the militants belong to the possibility of such a successful offensive skeptical, believing that such information is communicated to personnel solely to raise the level of morale, which has deteriorated due to significant losses incurred by the "11th regiment" during the recent escalation of hostilities.
Comments
comments