Gerashchenko's expulsion Zhadan: Russia creates background for the deterioration of relations between Ukraine and Belarus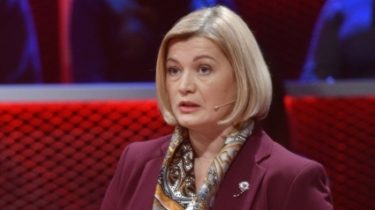 The Ukrainian foreign Ministry is preparing a note of protest over the expulsion of the Ukrainian writer Serhiy Zhadan from Belarus. This was announced by first Vice-speaker of the Verkhovna Rada Iryna Gerashchenko.
According to her, Ukrainian diplomats must find out why the Belarusian side is not informed about this "outrage," the Ukrainian Embassy. Also Gerashchenko recalled the deportation from Russia of Ukrainian journalist Vitaliy Sizov.
"In the sanctions list established by the FSB, hundreds of Ukrainian politicians, public figures and activists who are denied entry to Russia and, in parallel, because it is a single space in Belarus. I'm afraid I'm the only exception, who at the time of the Minsk group, despite the prohibition of entry into the Russian Federation are allowed to enter Belarus, and after a big diplomatic scandal, when the foreign Ministry of Belarus acquittal even wrote an explanatory letter to the UN Secretary General that, say, OK, let him come and work" – the politician wrote.
According to Gerashchenko, the sanctions list of the Russian Federation are humiliating and worsen bilateral relations of Ukraine and Belarus.
"All of these lists are humiliating, FSB thus provide the backdrop for the deterioration of bilateral relations with Belarus, is also one of the goals – the deterioration of relations between Minsk and Kiev. I think that the Ukrainian party should raise the issues of inadmissibility of such lists, when the Russian Federation and the FSB decides who of the Ukrainians has the right to visit Belarus", – it summed up.
Later Gerashchenko added that information about the expulsion of Zhadan was confirmed by the Ministry of foreign Affairs is preparing a note of protest.
"It's really a shame and it is time to firmly put the question to Minsk on the inadmissibility of actions of the FSB, in this shameful way, through the formation of shared blacklists, trying to worsen our bilateral relations with Belarusians," – said Vice-speaker.
As previously reported, on February 11 Ukrainian writer Serhiy Zhadan said that he was detained in Minsk. Belarusian police outfit arrived in his hotel room without explanation, taken to the police station. It is possible that from 2015 on, denied entry to the territory of the Russian Federation with the formulation "for his involvement in terrorist activities". Since Belarus with Russia in the same visa zone, the ban automatically goes to Belarus.
Writer's night is held in a cell, and then put a stamp banning entry to Belarus for an indefinite period.
Comments
comments