The MP explained how the Deputy is a fugitive from Russia received Ukrainian citizenship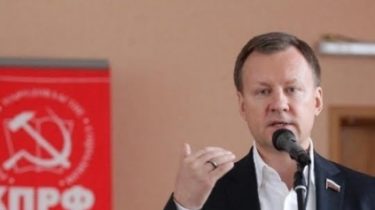 Ex-member of the "Public Council" of Russia Denis Boronenkov received Ukrainian citizenship on the basis of family ties in Ukraine.
This was announced by the people's Deputy of Ukraine Valeriy Patskan, which is included in the Commission under the President on issues of citizenship, writes Radio Liberty.
See also:
The Russian Deputy-runaway Boronenkov explained his vote for the annexation of the Crimea
According to Patskan, some members of the family Boronenkov live in Kherson region.
"Appeal Boronenkov was not considered by the Commission because he had not applied for citizenship to the President. He got it through the State migration service of Ukraine on the basis of family ties. The procedure can last from 1 to 3 months, depending on how quickly the applicant collects the documents," – said the MP.
See also:
MP is a fugitive from Russia compared Russia with Germany since Hitler
We will remind, the Deputy of the "State Duma of the Russian Federation of the 6th convocation Denis Boronenkov and his wife, also a Deputy of the state Duma of the Russian Federation, a famous Russian Opera singer Maria Maksakova in October 2016, before the end of parliamentary powers, went to Ukraine, where he obtained citizenship.
According to Boronenkov, on December 4 last year ended his powers of the Deputy of the State Duma, and on December 6 he became a citizen of Ukraine. Former Russian MP noted that Ukraine for his second home country, because his family comes from the Kherson region.
He also testified the Prosecutor General's office of Ukraine in case of treason Yanukovych.
Comments
comments