In Kiev, a man with a hatchet attacking people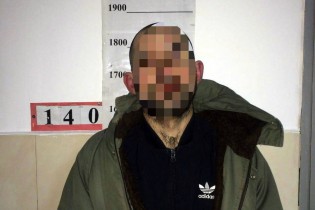 In Kiev the night of 29-year-old man with an axe attacked the people.
It is reported by the patrol police.
"On the street of Academician Efremov man armed with axe attacks people" — this patrol announced on February 16, about 3 o'clock in the morning.
It is noted that the man had barricaded the door to the stairs of the house, so the police were able to climb to the desired floor on the Elevator only.
Leaving the Elevator, the inspectors immediately responded and detained similar to the description of the man.
He found several knives and a bag with a powdery substance similar to a narcotic, and the apartment — axe.
According to the Complainants, a man with an axe rushed to his sister and her friends knocked the door.
The attacker was arrested and taken in Svyatoshinsky police Department, where he was handed over to investigators.
See also:
In the center of Kiev attacked the head of the Institute of national remembrance Vyatrovich
We will remind, in January in Kiev on the street Novopolevaya four men robbed and raped the girl. "3 Caucasians and our – raped a girl, took phones, money. Ul. Novopolevaya", – stated in the message.
The attackers were armed. One of them has a distinctive sign on his left wrist tattooed lizards.
Then in the capital declared the plan interception, law enforcement officers searched for silver "Lanos", the numbers of which begin with "AA 22".
Comments
comments