Putin aide Surkov was against the annexation of the Crimea — the Deputy-the fugitive Boronenkov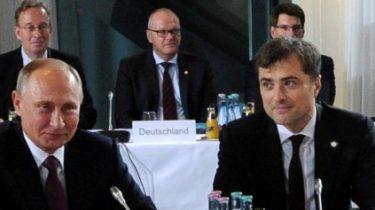 Assistant to the President of the Russian Federation Vladislav Surkov was against the annexation of Crimea by Russia.
This was stated by the former Deputy of the state Duma Denis Voronenkov, who in the fall ran away from Russia, and in December of 2016, has received Ukrainian citizenship, reports Hromadske.
See also:
In the presidential Administration said that I have to leave
"The decision about the annexation took one person. All the normal people were against it. Including his inner circle," said Boronenkov.
See also:
Vote for the annexation of the Crimea and the criticism of Ukraine for Russophobia. What is known about Boronenkov, "passed" Yanukovych
On the question of whether Vladislav Surkov opposed to the annexation of Crimea in March 2014, Boronenkov said that he was "categorically against".
"Because he's a smart man," — said the ex-Deputy.
Recall, he Boronenkov voted for the annexation of the Crimea. In an interview with TSN.ia the former Deputy explained that his decision to vote with threats: "What would an open vote against, well, were, what, 50 metres from the Duma will not have time to walk. I would have been jailed on spurious grounds, my family would be destroyed, you know, my wife has already lost two children when there was this pressure. Someone would have remembered here in Ukraine about a man Denis Boronenkov, who voted against the Crimea?"
Comments
comments