The German foreign Ministry urged Russia to influence the militants to maintain peace in the Donbass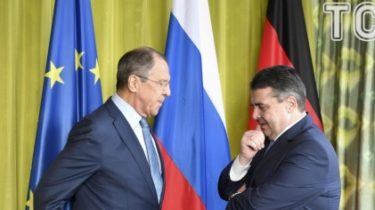 Foreign Minister of Germany, Sigmar Gabriel urged Russia to use influence on rebels fighting in Eastern Ukraine to withdraw heavy weapons from there. He stated this during a meeting with his Russian counterpart Sergei Lavrov, according to Reuters.
See also:
The German foreign Ministry responded to the Ambassador's words about the elections in the Donbass
According to the report, Gabriel urged Russia to do everything possible to ensure removal of weapons along the line of demarcation, what was agreed yesterday during a meeting of the trilateral contact group.
"It is important to strengthen the ceasefire .. which is very fragile," said a German diplomat.
See also:
In Minsk agreed to withdraw all the weapons in the Donbas until February 20
In turn, Russian President Vladimir Putin is sure that Ukraine allegedly by the escalation of the conflict in the Donbass attempts to disrupt the Minsk agreement. He believes that the Ukrainian government is not ready for peaceful settlement of the conflict in the East of Ukraine and Sprague that the problem will be solved by force. Such a provocative statement he made on February 16 at the Board of the FSB.
Comments
comments